BOLTON, Ontario – Husky Injection Molding Systems today announced the appointment of Mark Segal to the position of Vice President, Finance and Chief Financial Officer. Mr. Segal will join Husky's executive team and will lead the global finance organization.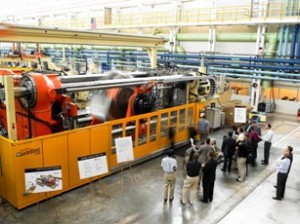 "Mark brings a wealth of global financial and operations experience to Husky that is aligned with our key priorities and growth objectives," said John Galt, Husky's President and CEO. "I am pleased to welcome him to our team and look forward to the contributions he will make as a strategic business partner."
"I am excited to be joining the Husky team, which consists of a strong group of individuals clearly dedicated to achieving excellence," said Mark Segal. "Husky is a growing, global company that is well-known for its leadership in developing innovative, state-of-the-art technologies and solutions for customers. I look forward to being part of the team and having the opportunity to contribute to Husky's ongoing growth and success." Prior to joining Husky, Mr. Segal was most recently Chief Operating Officer of Canada Goose Inc. a leading manufacturer of high performance outdoor clothing. He has also served as Chief Financial Officer of Spin Master Ltd. and as Vice President, Corporate Treasurer of Norigen Inc. Mr. Segal has past experience at Husky and held the role of Director, Treasury and Finance from 1997 to 2000.
He is a Chartered Accountant (South Africa) and holds a Bachelor of Commerce degree, a Bachelor of Accountancy degree and a Master of Business Administration degree from the University of Witwatersrand in South Africa. Mr. Segal will be officially joining Husky on March 4, 2013, replacing George Halatsis, who retired as CFO at the end of 2012 and has joined Husky's Board of Directors.
About Husky
Husky Injection Molding Systems Ltd. (www.husky.ca) is a leading global supplier of injection molding equipment and services to the plastics industry. The company has more than 40 service and sales offices, supporting customers in over 100 countries. Husky's manufacturing facilities are located in Canada, the United States, Luxembourg, Austria and China.