Huntsman Advanced Materials developed the bio-based epoxy resin used in the construction of the BioMobile, a prototype vehicle designed to promote 'sustainable mobility.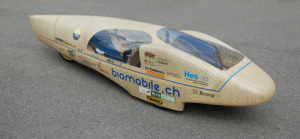 'The aim of the BioMobile is to achieve minimal reliance on the use of fossil fuel resources in its design and construction, while offering very low energy consumption in use.
Renewable materials
The BioMobile.ch 'sustainable mobility' project was founded in 2004. The BioMobile vehicle has been updated over the years to integrate new bio-based fuels and renewable materials. Its latest adaptation sees the replacement of the remaining non-renewable structural components with renewable materials.
The composite body, chassis and most of the structural parts of the BioMobile are now made entirely from various vegetable fibre reinforcements impregnated with a specially developed epoxy system from Huntsman Advanced Materials which contains over 50% bio-based resin.
"The successful integration of a blend of renewable vegetable fibre and bio-based resin represents a significant factor in increasing the performance and uniqueness of the BioMobile," says Michel Perraudin, Project Manager for BioMobile.ch.
"Huntsman's bio-based resin system proved particularly advantageous with its easy handling and processing capabilities. In helping to optimise the mechanical properties of the prototype, it also played an important role in enabling us to demonstrate that individual mobility with a lower energy signature is possible within both manufacturing and vehicle usage."
Energy-efficient vehicle
The BioMobile's fuel consumption is approximately 0.12 litres per 100 km and it now runs on X41, a biofuel made from organic waste.It was originally developed as an energy-efficient vehicle for competitions such as the Shell Eco-marathon, which challenges teams to go as far as possible using the least amount of energy.
Developed within the Haute Ecole du Paysage, d'Ingénièrie et d'Architecture de Genève, which is part of the University of Applied Sciences Western Switzerland, the Biomobile prototype's development has involved schools in Switzerland and France as well as several European industrial partners.
Source: www.reinforcedplastics.com