Hudson-Sharp, a US-based bag converting equipment supplier with a European headquarters in Brussels, Belgium, will present its latest version of the model 5750 W high speed wicketer at Arabplast 2015.
For certain applications and under optimum conditions, the 5750 W can run consistently in a production environment at cycle speeds of 450 per minute. The use of new materials for key components and the latest servo technology contributed to the significant increase of running speed, said the company.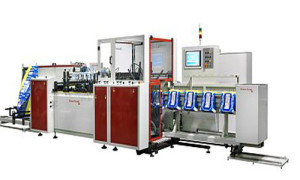 Hudson-Sharp's new standard airless anti-static system and servo-driven wicket punches help saving energy and improving running costs. Its automatic seal bar cleaner reduces downtime and enhances quality. A debris-free seal bar helps to ensure stronger seals
In addition, the machine can be programmed to stop at pre-set intervals for the seal bar to be automatically cleaned of any accumulated debris, which takes only 12s.
The company also offers different options to ease the handling of finished stacks of bags, ranging from a simple stack processor to a robotic system for automatic boxing. Automation includes insertion of wicket wire, boards and grommets and insertion of finished stacks into boxes.
At the show, Hudson-Sharp will also unveil a new generation of tools designed to improve change-over time from one job to another.
Arabplast 2015 will take place in Dubai, United Arab Emirates (UAE) from January 10-13.
More Information…..
www.adsalecprj.com