PP prices in China and Turkey have been following opposite trends since early October, causing an imbalance between these two markets as per the pricing service of ChemOrbis. PP prices have been steadily firming up in China amid supply concerns whereas Turkey has been retreating in line with lower feedstock costs, poor demand and the pressure from the European market.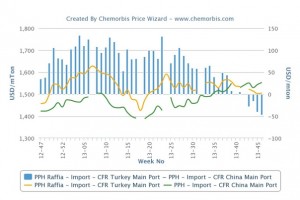 However, players are now wondering how this imbalance will be corrected. In order to move back into balance, either Turkey will move higher or China will come down. Some players put forward that both markets will have to be exposed to a correction.
In Turkey, global sellers offering to this country have been working with unfavorable netbacks for more than a month and they argue that Turkey needs a correction. Indeed, mostly because of this fact, there are signs emerging this week in the import PP market that the downward trend might have stopped. Current import PP raffia offers to Turkey are standing $50/ton below China on average, according to ChemOrbis Price Index, as can be seen from the graph below. This is despite the fact that Turkey should theoretically be trading at least $60/ton above China, as was the case before October this year, due to its smaller market share and higher freight rates.
When looking at the China side, import PP prices have been persistently rising for the past five months. As can be seen from the graph above, despite a few set-backs before the Dragon Boat Festival in June, the overall firming trend started as early as May. Indeed, current PP prices in China are at the highest levels seen since 2011, according to ChemOrbis Price Index.
The recent firming trend right after the National Day holiday in early October has been mostly fueled by supply concerns since floods hit some parts of China. Buying appetite has also been good in the country as most buyers delayed their purchases to the post holiday period, when they faced tightness. Chinese converters' orders have been satisfactory due to the Christmas preparations, according to players.
According to ChemOrbis, however, players are now questioning whether a peak is nearing or not. As most sellers preferred to shift their extra allocations to China due to better netbacks, these cargoes are believed to be set to arrive in the country in December, easing availability concerns at a time when demand cools off since many players leave early for Christmas holidays around the world. This week, a distributor based in Ningbo said, "PP supply remains tight, but we are willing to negotiate with our customers as we are skeptical about the possibility of any further price increases given mounting resistance from buyers."