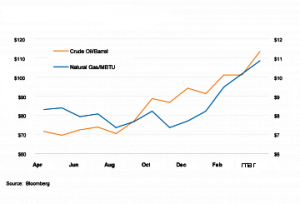 In global markets, Middle Eastern PP and PE prices were revealed higher despite the weak demand amidst buyers' complaints as per the pricing service of ChemOrbis. A major Saudi Arabian producer issued hikes of $20-60/ton in their own local market for March PP and PE during last week. A trader who was offering on behalf of the producer had commented, "The producer's prices are found high and we think that these higher prices are stemming from the fact that they are still under maintenance. Prices might remain firm until the producer completes their maintenance at the end of April."
Following their domestic increases, the same producer approached Egypt's PP and PE markets with higher March prices when compared to the levels they offered to the country in February. The producer's PE hikes change between $40-100/ton for different PE products with most hikes centering in the range of $40-70/ton. In the PP market, the seller offers $60-120/ton increases while the most repeated hikes centre on $60-70/ton.
A buyer who received these prices commented, "We find these new March prices very high since the current market situation does not support any hikes. Plus, our end product demand is weak and if we are to pay these increases, then we need to at least double our end product prices. However, our customers would not be able to pay such figures given the ongoing liquidity issues in the market. We believe that the producer is likely to revise down their prices in the days ahead."
The Turkish market also saw higher prices from the Middle Eastern suppliers. A Middle Eastern producer who holds very limited quantities both for PP and PE revealed $30/ton hikes for these products. A source from the producer told ChemOrbis, "Our homo-PP, HDPE and LLDPE availability will be very tight during March. Our supplies are not likely to see any relief until April."
Apart from this producer, another Middle Eastern producer revealed their March sell idea to a Turkish buyer at $40-50/ton higher levels. According to the buyer, the producer told them that they came with higher prices but they might revise their offer levels down if these levels do not work.