In China, domestic HDPE, LDPE and LLDPE film prices rose to year-to-date highs during this past week while offers for locally held import cargoes also followed the lead of the domestic prices and hit their highest levels of 2013 as per the pricing service of ChemOrbis.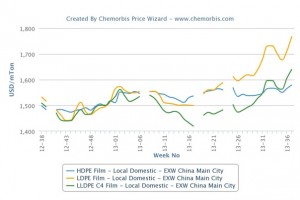 Locally held LDPE and LLDPE film prices jumped CNY150-550/ton ($25-90/ton) while HDPE prices were stable to CNY100-300/ton ($16-49/ton) higher over this past week on the back of the higher upstream costs.
A distributor commented that he is doing back-to-back business now because his replacement costs have risen due to the stronger energy costs and the rise in LLDPE film futures prices, while he is uncertain about the demand outlook. He said, "Many small to medium sized converters halted their operations although some large sized buyers lifted their operating rates."
A converter reported, "We are currently operating our lines at around 60-70% capacity. This is a higher rate when compared to the last few months but we still do not deem demand as healthy as previous years. We prefer to secure limited amounts of materials to meet our immediate requirements instead of building high stocks despite the fact that we saw some improvement on our end product demand. We prefer to be cautious ahead of the approaching holidays."
A trader noted, "PE prices saw increases on the back of the local producers' hikes despite softening crude oil prices. We lifted our prices but we are willing to negotiate in return for firm bids. At the moment we hold limited stock levels and despite slow buying interest we expect to see stable to slightly firmer prices next week."
A distributor said at the end of the week that local PE prices saw slight decreases when compared to levels at the start of last week despite higher LLDPE film futures. "We are mostly focusing on our sales in order to maintain our margins but we are planning to act cautiously when making fresh purchases due to the uncertain market outlook after the approaching holidays. Plus, the crude oil market is very volatile at the moment," he further added.
According to ChemOrbis, although sellers' prices indicate an upward trend, buyers are generally skeptical about the feasibility of these hikes when considering the upcoming holidays at the end of September and the beginning of October along with the easing in tension regarding Syria, which started to cool off the energy markets.