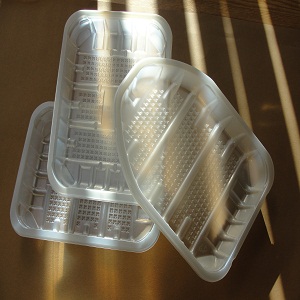 Holfeld Plastics, one of Europe's foremost rigid plastic packaging manufacturers has added to its range of sustainable trays for poultry and fish products with the unveiling of a range of r-PET/PE poultry and fish trays. This latest introduction adds to the acclaimed rPET and PP S2, 3, 4, 5 & 6 ranges of poultry and fish trays.
In creating the pluS range Holfeld has devised a tray with improved sealing characteristics offering excellent barrier performance ideally suited to poultry and fish products helping retailers reduce food waste by keeping the poultry and fish foodstuffs fresher for longer. A PE sealing film provides for stronger seal integrity and the trays can have either a lock seal or peelable film solution.
The packaged poultry and fish products are securely protected in rigid plastic trays with strategically located ribbing to withstand rigorous packhouse, warehousing or transit environments ensuring the products reach the consumer in perfect condition. A high impact resistance at chill cabinet temperatures means that they are perfectly engineered for domestic deep freezers. The products are available with coloured drip pads or with Holsorb, an integral drip retention feature in the base of some trays eliminating the need for soak pads. All in all the new range offers maximum pack security from packhouse to retailer, from retailer to end user.
The trays are also available as part of Holfeld's mainland European range in a foamed r/PET/PE, natural or coloured. John Cullen Sales and Development Director said: ' This is a new generation of products. The pluS range compliments our existing 'S' ranges for poultry and fish packaging – the new range carries a low carbon footprint with increased packing line efficiencies due to the faster sealing times. And as these are made from recycled rPet they offer a maximum shelf life due to the increased barrier properties compared with PP an important feature in the world's fight against food waste. The lower cost top web film provides further, much needed financial efficiencies in this tough economic climate!'.
The result is a fit for purpose enhanced on shelf product presentation due to the higher clarity of the r PET material with a gloss finish on coloured trays. In short optimal food protection whilst meeting financial stringencies and environmental credentials.' Holfeld Plastics also offer an opaque finish comparable with PP for those customers with a specific preference. Like all Holfeld trays the pluS range is available in a range of depths from shallow to deep and a choice of 28 colours and tints with more customised preferences on request. Caoimhe Holfeld, the Business Development Manager adds: 'This is an exciting new development that has distinct benefits for processors, retailer and customers alike.
This is in line with our strategy to develop products which our customers and their customers want whilst offering a wide choice of solutions for varying applications. Whatever types of poultry or fish our customers are packing we now have a range of trays in multi materials to suit all needs and a salesforce to offer sound advice on the most appropriate material.'