In Asia, PET prices have been declining since the middle of August in line with the weakening upstream costs and thinning demand as per the pricing service of ChemOrbis. This past week, price ranges on FOB China basis tracked a stable to softer trend while export prices out of South Korea retained their previous week's levels. Inside China, where PET producers and converters continue to run their plants at lower rates, prices slightly gained ground.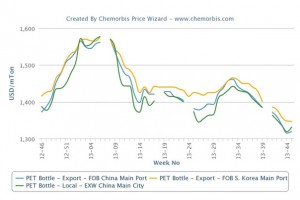 In the upstream market, PET production costs are still $20-50/ton lower when compared with early October levels based on spot PTA, MEG and PX prices. However, when compared with the start of November, these production costs indicated mostly a steady trend for PTA and MEG while they recovered slightly, by around $10/ton, for PX.
In China, more and more PET players started to question whether the PET market is close to the bottom or not. Steady to slightly firmer upstream costs encouraged domestic producers to lift up their prices.
A Chinese producer said, "We cut our export offers by $10/ton but lifted up our domestic offers by CNY100/ton ($16/ton), along with other local producers. PET producers' decisiveness on firmer prices helped the market sentiment to improve as we have been operating with negative margins for a long time. Apart from this, there is a shutdown at China Resources' 600,000 tons/year plant. This shutdown will reduce the availability in the market and is very likely to support the current firm stance on PET prices. We generally expect a steady trend on PET offers since the market sentiment is still far from being encouraging for increases."
A trader in Shanghai noted, "Owing to the stabilizing PTA and MEG costs and some shutdowns inside China, we received slightly higher export offers from domestic producers. We did not make any purchases this week since we prefer to observe the market for a little while in order to obtain a clearer view. We think that it will be difficult to lift up PET prices since we are in the low season and PET demand is not strong at all."
According to ChemOrbis, a different Chinese producer remarked, "We issued increases both on our export and local offers last week. However, overall trading activities remained slow since buyers continued to be cautious on their purchases."