In Asia, lower upstream costs coupled with dissatisfying polymer demand and sufficient supply levels continue to pull down PET prices as per the pricing service of ChemOrbis. Both FOB China and ex-China based prices indicate decreases for ten consecutive weeks.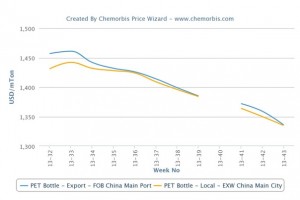 In upstream news, spot PTA, PX and MEG prices are lower when compared to the beginning of October. PX prices are $40/ton lower, PTA prices are $50/ton softer and MEG prices are $45/ton lower with respect to early October levels. As a result, export PET prices both out of China and South Korea recorded $20/ton decreases on a week over week basis.
In addition, operating rates inside the country are lower as there is no support from the demand side. Converters are mostly operating at reduced rates and this situation adds to the current downward trend.
A PET bottle manufacturer confirmed that they are operating their plant below 50% capacity while highlighting that several other converters are also running at reduced rates. The converter added, "We do not receive a satisfying number of orders from our customers and if this situation does not change, we may cut our operating rates further."
According to ChemOrbis, a source from a Chinese producer said, "We have heard that most buyers are running their plants at only around 30% of capacity these days. Such developments on the converters' side also cause lower operating rates at producers' plants. Nowadays, PET producers' average run rate is around 65%. We think that producers' operating rates are very likely to see further declines in November."