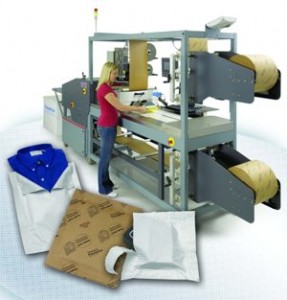 Gloucester Engineering Co. (GEC) has successfully completed and installed a retrofitted blown-film line for Automated Packaging. This project, which involved a substantial amount of engineering expertise, upgraded a number of components including the Extrol 6016 with an integrated IBC controller, power and control panels with air-to-water heat exchangers, 4.5-in. 30:1 ContraCool Extruder with continuous screen changer, a 26-in. Oscillating Monolayer IBC Die, an UltraCool II Air Ring,  and bubble cage, among other critical components.
The retrofitted line will manufacture high-quality, converter-grade film using mLLDPE, LLDPE, LLDPE and LDPE blends.
"Gloucester did a great job with this project," said Tim Braithwaite, vp-Plastics Operations for Automated Packaging. "The line operators appreciate the quick changeovers, easy set up and reliable operation of the new components. And we all appreciate the improved quality and rate of product being produced."
According to Brad Yates, Plant Manager of the Ohio facility, "The die and extruder package that Gloucester supplied is performing quite well and continues to exceed our original rate expectations while maintaining very good gauge."
Because retrofits involve older equipment that are already situated in the footprint of a customer's facility, Gloucester's expertise in retrofitting existing equipment highlights the strength of its engineering department. Gloucester engineers, including Gary Peacock, made multiple site visits to ensure the retrofitted solution would function within the facility's space requirements. Moreover, because Automated prints high-resolution graphics on the films produced by this line, the output from this blown film line had to be excellent.
About Automated Packaging Systems, Inc.
Automated Packaging Systems has been designing and manufacturing original Autobag®, AirPouch® and SidePouch® systems and products for nearly 50 years. With more than 30,000 bag packaging systems in operation and a worldwide service organization, Automated Packaging Systems has the experience and support to deliver the ultimate in customer satisfaction. www.autobag.com
About Gloucester Engineering Co.
Since its inception in 1961, Gloucester Engineering Co. has been a global leader in advancing quality and production limits in the plastics extrusion and converting market. GEC offers a range of innovative system and component solutions, for both new lines and retrofits, that provide customers a competitive edge in applications that include blown and cast film extrusion, foam and sheet extrusion, bag making and extrusion coating equipment. GEC manufactures its equipment from its headquarters in Gloucester, MA USA, and through its joint-venture company in Damman, India, Kabra Gloucester Engineering. www.gloucesterengineering.com
Source : www.convertingquarterly.com