METAV, the international trade fair for manufacturing technology and automation, will be opening its doors in Düsseldorf from 11th to 15th, March 2014. According to the organizer VDW (German Machine Tool Builders' Association), registration numbers at present are significantly above the level for the 2012 edition.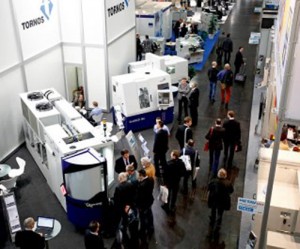 Apart from the shining exhibits, there will be a multifaceted supporting programme on commercial and technical issues at the exhibition. For example, the "Grinding Technology" Day will be showcasing developments themed around machinery design, tools and process control.
Meanwhile, the "Tools and Surface Engineering" Technology Forum will present metal-cutting processes, complemented by removal or laser machining techniques all the way through to coating technologies for producing functional surfaces on workpieces and tools. The "Functional Safety" Technology Day, finally, will paint a comprehensive picture of the new regulations, requirements and solution approaches designed to enhance the safety of machine tools.
In addition, users from the automotive industry and its component suppliers, the aerospace industry, the mechanical engineering and other sectors can bring themselves up to speed on modern-day production and automation solutions for machining fibre composite materials in the "MM Composites World Area".
Furthermore, the "Metal meets Medical" special show will be spotlighting the latest solutions in the field of dental technology, implants, surgical instruments and mould construction, linking them to the issues of process dependability, miniaturisation and accuracy.
The VDW's Youth Recruiting and Training Foundation (Nachwuchsstiftung) will once again be presenting a comprehensive range of information for young people at the METAV 2014, showcasing the training and skilling options on offer in the machine tool industry. Youngsters in their final year at school from technically oriented classes can in addition build a model Formula 1 car, and thus experience the entire production process from the drawing to the finished product.
In the 2012 edition, ultimately around 700 exhibitors from 26 different countries had presented their products to over 40,000 trade visitors.
Source:  www.adsalecprj.com/Publicity/MarketNews/lang-eng/article-67007334/Article.aspx