BASF will be launching the Asia Composite Center in Yokohama, Japan this April to develop lightweight solutions for automotive industry.
The Asia Composite Center, which houses manufacturing cell for part processing, including a versatile mold frame, machine, IR heater and robot, is able to demonstrate mass production of composite parts for automotive applications.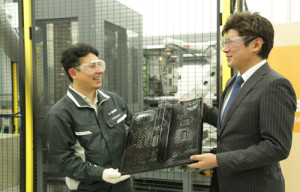 "Over the past 20 years, BASF has contributed significantly to metal replacement in automotive applications, using short fiber reinforced polyamide (PA). The opening of the Asia Composite Center allows us to help customers achieve early optimization in the product development process," said Andy Postlethwaite, Senior Vice President, Performance Materials Asia Pacific, BASF.
The processing technologies in BASF's Asia Composite Center are part of its service system offered under the brand name Ultracom. They are based on three elements: continuous-fiber reinforced semi-finished products, adapted overmolding compounds and the complementing engineering support.
Ultracom offers short cycle times due to the thermoplastic manufacturing approach. This can be accomplished for instance, by combining draping and over-molding in one step using continuous fiber-reinforced thermoplastic composites with optimized part design.
With the launch of the Asia Composite Center, BASF said is the first raw material supplier in Asia to provide a service system for continuous fiber reinforced components that includes molding trials of prototypes.
Additionally, Ultracom is ready for production on a semi-industrial scale in Asia with the Asia Composite Center.
Website:  www.adsalecprj.com