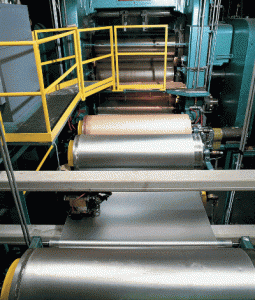 A new family of calendered PVC films targets increasing interest in the healthcare field for materials that are phthalate free.Teknor Apex Co. (Industry, CA) is introducing films that are made flexible with a citrate plasticizer that it says is stable in applications sterilized by gamma irradiation.
"The new citrate-based film from Teknor Apex enables medical manufacturers to obtain the proven advantages of PVC over alternative materials while meeting requirements calling for plasticizers to be non-phthalate," said Richard Vega, manager of the Teknor Apex Vinyl Division film calendaring facility. "The fact that this film grade is also gamma-stable means that it can provide those PVC advantages even in uses calling for the most aggressive form of sterilization."
The film grade is available in thicknesses from 0.006 to 0.020 inch (0.15 to 0.5 mm), widths up to 60 inches (1525 mm), and slitting down to 2.0 inches (51 mm). The film exhibits a Shore A hardness of 81, specific gravity of 1.25, tensile strength of 2700 psi (18.6 MPa), and elongation of 300%. The company fuses flexible vinyl compound and passes it through a series of synchronized nip rolls. "The advantages of calendering include thickness uniformity, consistent physical properties, thermal stability, and the availability of various embossed finishes," said Vega.
It's not clear how well the non-phthalate film might dent medical buyers increasing disdain for PVC. They sometimes targets PVC because of phthalates and sometimes because of dioxins.Kaiser Permanente (Oakland, CA) is phasing out PVC because of concerns about both. Partners Healtchare (Boston) is replacing vinyl wall covering with materials that are more "breathable".
The Cleveland Clinic has "drastically reduced" PVC used in construction and renovation projects due to concerns about airborne phthalate particles. "We have found that the alternatives have been very successful," said Christina Vernon, an architect who is Executive Sustainability Officer for the Cleveland Clinic.
PVC remains the most prolific material in medical applications, but it's growth rate is sure to be much slower than polyolefin-based replacement materials.
SOURCE : http://www.plasticstoday.com/blogs/medical-musings-will-phthalate-free-pvc-stop-medical-market-erosion0905201201