FORMAX, the UK manufacturer of carbon fibre and speciality composite reinforcements, has opened its 5,000m² Automotive Production Facility at the company's headquarters in Leicestershire.
Local MP, the Right Honourable Mr Andrew Robathan, was invited to publically open the new premises alongside Oliver Wessely, FORMAX's Managing Director.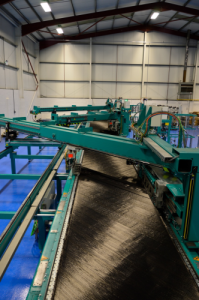 FORMAX says that this latest expansion, worth €2.5million, is part its on-going investment to deliver highly optimised carbon multiaxials to manufacturers of high volume automotive programmes.
According to the company, the new 35 metre multiaxial machine will allow Automotive OEMs and Tier 1s to design a bespoke fabric or preform to fit both the structure being built, and the manufacturing process; thereby ensuring a fast, cost effective and efficient conversion of carbon fibre into parts. This might include Class A body panels, BIW structure or impact resistant long fibre reinforced parts.
The machine is equipped with three axes, capable of laying ply angles from 20° through to 90° with both in-line and off-line spreading technology, allowing engineers to specify larger, lower cost, carbon fibre tows, with ply weights starting from just 50gsm.
FORMAX adds that an additional feature of the machine is that it is equipped with electronic pattern cams. This facilitates the creation of fabric specific stitch patterns, which combined with its research into simulating drape, gives the company a unique capability to tailor fabric for specific parts.
Oliver Wessely, FORMAX's Managing Director, conducted a tour of the new and existing facilities to industry guests and remarked: "As a key supplier to the automotive industry, we believe this investment lays the foundations for the next phase of FORMAX's development as the move towards light-weighting, and consequently carbon fibre structures, gathers pace".