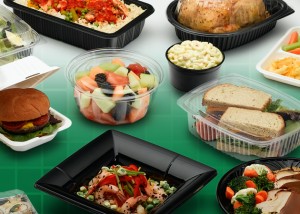 Currently, one of the hot button issues for foodservice single-use packaging is the proposed polystyrene ban in New York City, which is stirring many emotions on both sides. Still, in a time where bans or restrictions are being discussed, suppliers of foodservice packaging are optimistic about the year ahead. The Foodservice Packaging Institute (FPI) found that, generally speaking, a strengthening economy and less volatile input pricing could result in a positive year for the foodservice packaging industries in North America and Europe. Results of FPI's "State of the Industry Survey" found that nearly 85% of foodservice packaging manufacturers in North America expect their sales volume to improve, and almost three quarters expect higher profits in 2013.
Respondents were a little less optimistic in Europe, with just over half expecting volumes to increase and about a third anticipating better profits than last year. All the North American raw materials suppliers indicated sales volume growth, but less than half expect higher profits in 2013. It was a similar story for machinery suppliers; two thirds of those respondents predict elevated volume in 2013, with about a third expecting more profit.
In addition, more than 70% of the North American and European manufacturers reported plans to purchase new rather than used machinery in 2013. The two most common reasons for the planned purchases were market share increase and product capability expansion. I recently talked with FPI President Lynn Dyer about the study and she said several indicators throughout the entire survey point to a very optimistic industry.
"And that's fantastic," she said. "Foodservice packaging may not be recession proof, but seems to be recession resistant."
When evaluating the growth potential over the next five years, respondents expect strong sales in single-use packaging from grocery stores and quick service restaurant chains. Among North American manufacturers, convenience stores topped the list.
Grocery stores, fast casual and quick service restaurants, and nursing homes took the lead for largest growth expectancy in foodservice market segments. This is in line with results from Technomic's upcoming "Top 500 Restaurant Chain" report revealing that the fastest-growing limited-service restaurant chains in the U.S. realized average sales increases of 22.3% between 2011 and 2012, according to QSR Magazine. Part of the FPI survey highlighted common challenges the industry is facing. Dyer said for the first time in several years, global economic recession or recovery was not mentioned.
It appears that generally speaking, restaurants and other eating and drinking establishments, particularly the fast casual and quick service restaurants, are doing well, which directly relates to the foodservice packaging market. "Instead of going to the fine dining restaurants, many people are picking restaurants like a Panera Bread or a McDonalds to still have a food service experience," Dyer said. "That benefits us packaging folks."
Material trends
FPI tracks single-use tableware items, and Dyer said in the survey it asked suppliers about material trends. There was a reported jump in the usage of PET and PP, along with bio-based PLA and using recycled content in foodservice packaging.
"It's a combination of demand and packaging innovation and technology," she said. "A couple years ago you never heard about polystyrene with recycled content and now that is an option in the marketplace."
Traditionally, the collaboration process is between converters and restaurant operators regarding innovative packaging. However, Dyer said she is seeing more raw material suppliers get into the process, skipping the converter, and going straight to the "McDonalds of the worlds," to get a better idea of what they're looking for so they can make resins to meet the needs of the operator.
Fighting the "waste" perception
While Dyer said several studies show that single-use foodservice packaging products are more sanitary than reusable china and glassware, a challenge the industry faces every day is the public perception of packaging or foodservice packaging as "waste."
"The challenge is that packaging is very visible," she said. "We need to continue to look for ways to reduce and find a better place for it such as recycling or composting. The industry is working on recovery initiatives, but I think we also have to work to strengthen our position on why we need to use the packaging and how it is a benefit."
So while the economy is not back to pre-recession levels, people still have to eat, and if you're in the foodservice packaging industry, you can't deny that is a competitive advantage compared to other end-markets.
Source: http://www.plasticstoday.com/blogs/Foodservice-packaging-industry-forecasts-growth0415201301