Lampertheim/Troisdorf, August 28, 2014. A major Chinese producer of strapping tapes has expanded his production capacities by the addition of a Reimotec high-performance line for the production of PP and PET strapping tapes. The line can reach production speeds of 200 m/min and output rates of 500 kgs/h.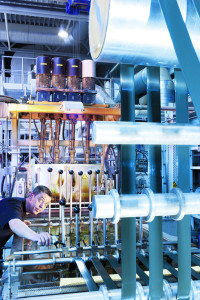 According to the General Manager of the Chinese strapping tape producer, the investment means an important step to ensure successful production in the long term: "With the new line from Reimotec we are able to significantly increase our productivity. But of even greater importance for us is the quality of our products which could also be considerably improved thanks to Reimotec. Now we can enter markets we had previously no access to."
The Reimotec line is provided with a co-rotating twin-screw extruder with vacuum venting which offers economic benefits in the production of PET strapping tapes, in particular: Contrary to single-screw systems, there is no need for an expensive predrying of the material so that the PET flakes can be processed more easily.
Detlef Kolb, Managing Director of Reimotec says: "The initial investment in twin-screw technology is more expensive. However, the higher costs will pay off rapidly due to the savings in energy and high flexibility with regard to the raw materials. Producers using direct extrusion, are able to cut their production costs in the medium term."
Beside the twin-screw extruder, the line is provided with advanced technologies ensuring a reliable and efficient production: Stretching, embossing, fixing and winding units are state of the art. A screen changer with backflush system increases uptimes of the line when processing contaminated raw materials without screen change. The modern automation system enables a reliable and reproducible production of the most different tape dimensions.
Today, strapping tapes increasingly replace steel hoops in many fields, for instance in the paper, textile, construction and steel industries, since PET tapes used in packaging applications are not only more cost-efficient, but can also be handled much safer by the end user.