In Asia, spot styrene costs hit their lowest levels seen since 2012 as per the pricing service of ChemOrbis. The spot market has been on a downward trend for some time and prices have recorded $95/ton losses on the month and $40/ton losses on the week. The drop in styrene prices was fueled by the lower upstream costs as benzene prices have been spiraling down since late June. The spot benzene market softened by around $80/ton on average as the month of August comes to an end.
Apart from the lower upstream costs, the weak downstream PS market also played a role on the styrene decreases.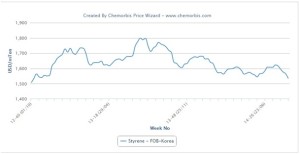 In China, lackluster PS demand caused prices to record $20/ton decreases at the low end of the overall offer range for both dutiable and non-dutiable origins during this past week. "Weaker upstream costs caused us to step back from our GPPS prices by $10-20/ton. For September, we are not optimistic," a trader operating in China commented late last week.
Another trader offering on behalf of a Taiwanese producer reported that the producer might lower their September prices in line with the current trend. "Plus, the producer has been keeping their prices stable for a long time and therefore, we anticipate a downward adjustment," he further added.
The local Chinese market also followed a similar trend given the softer upstream costs. Local levels were reported CNY100-200/ton ($16-33/ton) lower during last week. A trader, complaining about slow trading activities and softer upstream costs, remarked, "GPPS prices might record further decreases in the days ahead and prices may break a new threshold."
According to ChemOrbis, a Chinese producer noted, "The number of deals we concluded are not as satisfying as before. Given the lower styrene costs, we adjusted down our GPPS prices. We are also feeling pessimistic about the poorly performing EPS demand. If EPS demand does not revive by September that means EPS users might have to resell their excess styrene stocks which may cause further oversupply in China's styrene market and pull down the prices. If the market panorama continues to remain this pessimistic we might have to reduce our operating rates."