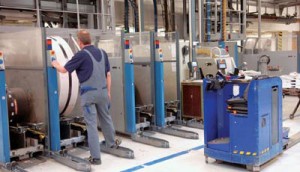 Ferromatik Milacron announced that it has been BS OHSAS 18001 certified for health and safety, adding the accreditation to existing ISO 9001 certification for quality management and the ISO 14001 certification for environmental management.
The Occupational Health and Safety Assessment System (OHSAS) standard was developed by the British Standards Institution in cooperation with various certification bodies around the globe. Today the BS OHSAS 18001 certification is an internationally recognized initiative for health and safety in the workplace.
"Constantly improving quality and environmental practices has been a cornerstone of our business for years now," said Fritz Mundinger, Management Representative for Integrated Management systems at Ferromatik Milacron. "The new BS OHSAS 18001 certification demonstrates our commitment to the health of our employees and meaningful safety rules around our machines. It represents a new step in the ongoing evolution of our business and business practices."
The German injection molding machine manufacturer has got ISO 9001 certification for quality since 1994 and ISO 14001 certification for environmental protection was received in 2010.
Source: http://www.adsalecprj.com/Publicity/MarketNews/lang-eng/article-67003195/Article.aspx