Fakuma 2015 has been entirely booked out since the end of February, reflecting great confidence from the entire plastics processing industry, announced the organizer, P.E. Schall GmbH.
"All available halls and ancillary floor space at the Friedrichshafen Exhibition Centre are once again fully occupied," said Fakuma Project Manager Annemarie Lipp. "Due to the fact that Fakuma is held twice every three years and will thus not take place in 2016, many manufacturers and distributors wanted to take advantage of the opportunity."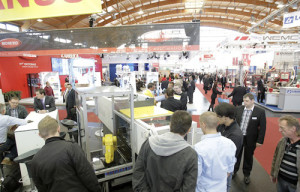 The organizer said numerous potential exhibitors will have to be excluded because exhibition floor space is limited.
Paul E. Schall, the founder of the P.E. Schall, explained, "With more than 1,700 exhibitors and overall exhibition floor space amounting to 970,000 sq feet, Fakuma has in the meantime reached a magnitude that we don't want to significantly exceed."
He said the show's emphasis is placed on qualitative growth in both exhibitors and visitors.
Fakuma 2015 will be held from October 13-17 in Friedrichshafen, Germany.
Website:  www.adsalecprj.com