A foaming material based on ExxonMobil Chemical's Vistamaxx propylene-based elastomer (PBE) is being used by Ndevr Corporation of Taiwan to produce soft, protective tablet computer covers for children.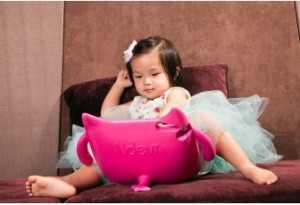 Ndevr uses Vistamaxx PBE to tailor, balance and enhance the properties of the foaming material to create covers that are pliable, tough and shock absorbent. As said, the foaming material can be easily molded into irregular shapes allowing creative tablet computer covers. Scraps produced during processing can be reused and recycled to reduce waste.
Available in three designs, Gremlin, Sharky and Crab Form Factors, the covers feature integrated soft handles that make them easy to hold and hard to drop.
According to ExxonMobil, Vistamaxx PBE meets various food contact compliance regulations including US Food and Drug Administration (FDA), EU and China, as well as voluntary standards set by industry associations such as JHOSPA. In addition, it has passed ASTM F963, CPSIA, CE, EN71 and ROHS for toy safety standards.
"Vistamaxx PBE has helped us to develop tough and fun tablet computer covers for children, while helping to meet the needs of safety conscious parents," said John Yen, Director, Ndevr Corp.
Source: http://www.adsalecprj.com/Publicity/MarketNews/lang-eng/article-67005522/Article.aspx