According to ChemOrbis, most players have wrapped up their December business with €20-30/ton decreases in European PVC markets this week. Converters in the region avoided pre-buying activities given the fact that steadily falling upstream costs draw a bearish picture for January ahead of Christmas Holidays.
As a result of the ongoing decreasing trend that has been in place since early July of this year, the local PVC markets in Italy have hit the lowest levels since July 2012, according to ChemOrbis Price Index. Now, some buyers argue that new ethylene contracts may settle around €50-100/ton lower for next month based on persistently falling spot naphtha and ethylene costs region wide. This would pull PVC prices down further in January, they opine, which hindered any pre-buying activity prior to holidays.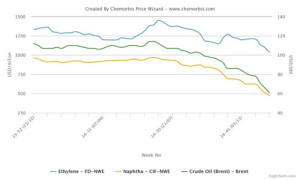 In Italy, a distributor sold his PVC allocation with €25/ton decreases from November. "Demand has been in line with this time of the year. We hope that it will improve in January once buyers who are waiting for another round of decrease next month return to the market to replenish their inventories," he commented. He thinks that ethylene contracts might decrease by €50/ton considering current crude oil and naphtha costs.
"We purchased only 2 cargos this month in order to close the year with low stocks. Plus, we plan to buy larger amounts next month when we expect to see further decreases. End product demand has been weak since November," a converter reported. A compound maker reported receiving price discounts of €25-30/ton this month, saying that demand is weak at the moment. "We kept our purchases restricted due to our expectations of additional price cuts next month. Prices may continue to lose ground until March unless energy markets stabilize," he stated.
A cable producer thinks that declining feedstock costs will push PVC prices down further in January. End users are also adopting a waiting stance as they anticipate additional drops in end product prices, according to ChemOrbis.
In Germany, a West European PVC producer closed December deals with €20-25/ton decreases. A source from the producer opined, "The January outlook is hard to predict but if mild weather conditions remain in place we hope to see a pick-up in demand following Christmas Holidays."
A packaging converter was pushing for a €30/ton decrease from last month, noting, "Expectations center on a bearish trend for January owing to lower crude oil and naphtha prices. We foresee a drop of minimum €100/ton for new ethylene contracts, which may settle before Christmas." A profile producer complained about slow demand from the construction sector while he forecast a weak scene for January and even February.