Material Sciences company Royal DSM will feature numerous new applications in automotive, mobile electronics and electrical equipment at PlastIndia 2015.
For the automotive sector, a major highlight is a new generation of Diablo high temperature resistant grades in DSM's Stanyl polyamide (PA) 46 and Akulon PA 6 portfolios.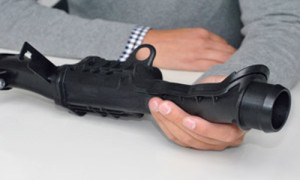 The new Diablo grades are aimed at such engine compartment applications as air intake manifolds with integrated ducts and charge air coolers (CACs), DSM said. The latest version of Stanyl Diablo PA 46 is able to withstand a continuous use temperature of 230°C, while the new Akulon Diablo withstands a 220°C continuous-use temperature.
Other innovative automotive applications on display include a composite fuel tank for two and four wheeled vehicles running on methane or hydrogen, and an award-winning crankshaft cover.
The fuel tank is a pressure vessel made by wrapping a high-barrier liner blow molded in DSM's Akulon Fuel Lock PA 6 inside a continuous fiber reinforced plastic shell. It is around one third the weight of a steel tank.
According to DSM, it is even possible to use thermoplastics such as EcoPaXX PA 410 – which is derived from renewable resources – in the shell, rather than a traditional thermosetting resin. An award winning multi-functional crankshaft cover, which is made of EcoPaXX, will be showcased.
The EcoPaXX crankshaft cover is produced by DSM's automotive component specialist partner KACO in Germany for the latest generation of diesel engines developed by the Volkswagen Group. It weighs around 40% less than a crankshaft cover with similar geometry made in aluminum.
For Electrical and Electronics (E&E) applications, DSM has developed more efficient, cost-effective and environment-friendly alternative to glass-reinforced thermoset composites in molded case circuit breakers (MCCBs).
PlastIndia 2015 will be held in Gandhinagar, Gujarat, India from February 5-10.
More Information….
www.adsalecprj.com