The European PE market's downward trend slowed down at the beginning of December, with the latest prices tracing a stable to softer trend as per the pricing service of ChemOrbis. Some suppliers conceded to discounts without reflecting the entire ethylene drop of €50/ton while others are even seeking to maintain their prices citing the prevailing tightness. Indeed, PE supply remains short across Europe as Ineos declared force majeure on LLDPE and HDPE supply from Grangemouth, the UK in end November.
A South European PE producer announced rollovers on their December gentlemen's agreements. A producer source commented that supply is tight, especially for HDPE. A West European producer also left their December PE prices unchanged in both spot and contract markets, pointing to their short availability.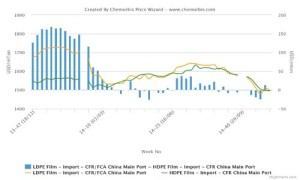 In Italy, a distributor lowered his West and South European prices by €10-20/ton for HDPE and by €30/ton for LDPE from November. "Our discounts are smaller than the ethylene drop, especially for HDPE, for which supply is shorter. Demand was good in November and we expect it to remain healthy this month as prices have reached acceptable levels," he commented. Meanwhile, some sellers of locally-held Middle Eastern PE elected to keep their prices stable at the beginning of the month due to their limited availability.
Some buyers reported receiving stable offers while others reported that initial December PE discounts are smaller than the ethylene drop of €50/ton due to availability constraints. A packaging producer commented, "We made some purchases with rollovers as supply is quite short. One of our suppliers said that they are going to sell out their allocation soon." A packaging producer bought West European LDPE and HDPE film €20-30/ton below last month to ensure that they have sufficient stocks until the first week of January. The buyer commented that PE prices are unlikely to gain ground in January and stated that he projects mainly rollovers on January deals.
In Germany, a distributor is giving West European PE offers with rollovers to decreases of up to €20/ton for December. The distributor stated that his supplier is experiencing production issues at their plant in the UK and commented that demand is good due to availability concerns. Another distributor issued decreases of €20-30/ton from November and stated that he expects to see good demand ahead of the Christmas holidays. A converter reported, "Our West European suppliers conceded to reductions of €30-50/ton this month while Central European producers are giving December offers with rollovers or small decreases of €10/ton citing short supply."
According to ChemOrbis, in France, a distributor lowered his December PE prices by €40/ton for different West European origins and claimed that his supply is tight. Meanwhile, a packaging producer reported receiving stable offers for December, but stated that he isn't rushing to make new purchases.