Divergent trends were observed in the European monomer markets this past week as per the pricing service of ChemOrbis. Following the September monomer settlements, spot prices posted decreases for ethylene and styrene while propylene prices firmed up over the past week.
After hitting a year-low level at the beginning of September, spot propylene prices on an FD NWE basis have climbed by €30-35/ton on the week. Traders attributed this recent firming to improved buying interest following the monomer settlements while some of them argued that propylene availability is rather limited due to reduced run rates at some crackers led by ample ethylene supply.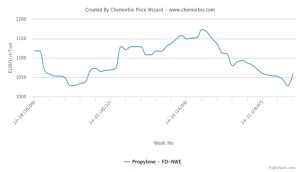 In the ethylene market, spot prices had declined by over €35/ton at the end of last week, posting their third consecutive weekly drop. The recent softening in ethylene prices was led by ample availability stemming from weaker demand from the downstream markets.
Almost 1 million tons/year of PE capacity across Europe was set to be taken offline for planned maintenance within September. ExxonMobil was expected to shut their 400,000 tons/year metallocene LLDPE unit in France for a turnaround this month. LyondellBasell was planning to conduct a maintenance shutdown at their HDPE plant in Plock, Poland in September, according to market sources. The 320,000 tons/year plant was scheduled to remain offline for four weeks.
Sources added that Ineos was expected to shut their 240,000 tons/year HDPE plant in Lavera, France for two weeks in September. The company's 200,000 tons/year HDPE plant in Rosignano, Italy reportedly underwent a 10-day turnaround last month.
However, these turnarounds failed to contain the decreasing trend in the downstream PE market where initial September prices emerged with decreases of up to €55/ton in line with the lower ethylene settlements.
For styrene, spot prices posted weekly decreases of $35/ton on an FOB NWE basis to hit the lowest level since December 2012, according to ChemOrbis. In addition to softer benzene costs, the weak downstream markets were also cited among factors exerting downward pressure on the styrene market.