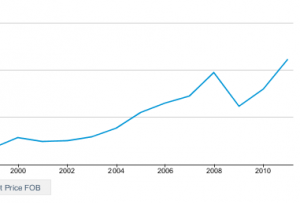 Players in Southeast Asia report that PET prices have posted significant increases this week in accordance with the sizable increases posted on major feedstock prices since the start of September, as per the pricing service of ChemOrbis.  Sellers are taking firm stance on their new prices, commenting that they would rather lower their operating rates or even shut down their plants if buyers refuse to accept their new prices.
Spot prices for PTA and MEG feedstock have posted increases of $60-65/ton on a CFR China basis since the beginning of September, resulting in an increase of around $70-75/ton in theoretical PET production costs.  The recent announcement of a third round of quantitative easing on the part of the US central bank also supported sellers in their push for higher prices.
"We lifted our export prices by $90-100/ton this week due to higher costs.  We are planning to either reduce our operating rates or shut down our plants if our new prices do not find acceptance as we will not be able to cover the full extent of the increase in our production costs even if buyers accept our new prices," a source from a Malaysian producer told ChemOrbis.  A source at a Chinese producer stated, "We raised our prices by $60-70/ton this week to cover the recent increases in upstream costs.  We have not been able to conclude many deals at our new price levels, but we are taking a firm stance on prices as we believe that buyers will start to return to the market after the upcoming holidays in China."
A converter manufacturing PET bottles for the soft drink industry in Vietnam reported, "We are seeing good demand for our end products these days.  We were not surprised to see higher PET prices from the import market and we believe that prices will continue to increase in the weeks ahead as usually happens during this time of year."  Another Vietnamese converter reported, "We received offers for South Korean, Thai and Malaysian with $100-110/ton increases this week.  We find these new prices to be too higher but would be willing to accept smaller increases of around $40-80/ton.
A plastic bottle manufacturer in Indonesia stated, "We received offers from a domestic producer with $100/ton increases this week.  We are not willing to purchase at these new levels as we are feeling comfortable with our stock levels these days."  A distributor in Indonesia reported, "We sold some material to the local market with $30-40/ton increases this week and are considering announcing some additional price hikes if import prices continue to move higher."