Following the trend which shifted downwards in the past two weeks in China, Turkey's PE market started to feel downward pressure particularly on Middle East origins based on netback calculations, according to ChemOrbis. The consistent lack of buying appetite stemming from unsatisfactory orders of converters for their end products ahead of the general elections and Ramadan also contributes to this downward pressure.
"Sellers do not want to admit it, but we feel they are starting to feel nervous because of retreating ethylene and PE prices in Asia as well as the resistance building on the buyers' side," said a packaging converter.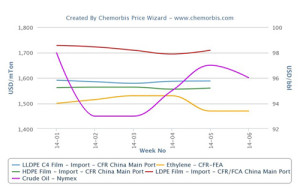 Even though netback calculations based on China are indicating prices standing at least $50-60/ton below the latest offer levels reported in Turkey, a rapid downturn is not expected in Turkey and sellers are not rushing to reduce offers. On the contrary, the Turkish producer, Petkim, raised its LDPE prices again this week.
In the import market, most new offers for June are yet to be announced in Turkey while only offers from a Qatari producer were reported in the first two trading days of this week either stable or $20-30/ton lower on the week. Players are expecting to hear from a major Saudi supplier who offers from the bonded warehouse on Thursday.
The fact that the European PE market remains bullish for June and the next ethylene contracts are expected to settle higher is offsetting the downward pressure on Turkey applied from China, according to ChemOrbis. Tight supplies across Europe have caused PE prices to gain a considerable premium over other markets, which shifted Middle Eastern sellers' attention to this region.
PE supplies are not so comfortable in the Turkish market either with ongoing constraints being felt from the Middle East and Iran while European availability has been scarce for a while. Petkim has also not been providing LDPE for the past few weeks, buyers report. "As demand is not strong enough, limitations of supply are not voiced as a major concern but supply from nearby and/or regular sources is rather low," said a trader. Another trader also commented, "Our offers do not see any interest in Turkey, which is related to the lack of demand rather than the price itself. Therefore, we shifted our remaining Iranian PE cargoes to Europe."
In the midst of a bullish European market and persisting supply issues, most players think that any possible downward momentum will be curbed in Turkey. "We do not expect to see dramatic changes soon, although the market may start to fall visibly later in June," said a buyer.