PVC sellers in Italy wrapped up their July business with hikes of €10-20/ton month over month while a few already expressed relatively higher prices or sell ideas for August as per the pricing service of ChemOrbis. These hike intentions found support from the ongoing tightness in Europe since June when Central European countries were hit by heavy floods. Now, August ethylene settlements reinforced the firm outlook in Italy as they settled up in line with expectations.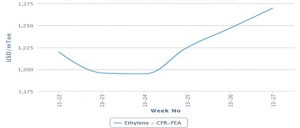 Even before an initial August ethylene contract settled up €40/ton over July settlements in the middle of this week, PVC distributors in Italy started to adopt firmer stances regarding the approaching month as they were confident about increases between €30-50/ton in the new monomer contracts. New propylene contracts were done €50/ton higher earlier this week which stiffened bullish talks for ethylene contracts.
Prior to the ethylene settlements, an official distributor of a Central European producer started to seek €20/ton increases over July for PVC k70 and k58 after closing their July sales with hikes of similar amounts. "Our supplier wants to lift their prices as they are sure about an increase on new ethylene settlements," he stated. He admitted that he was already facing some resistance from buyers who want to pay only rollovers. "Demand may be limited in August due to summer holidays," he commented.
"However, supply is tight and we are not able to offer PVC k64-65 and k67-68 as the force majeure on the output from our producer's plant remains in place," he mentioned. The Central European producer extended their force majeure to mid-August. The force majeure was declared in early June given floods in the region and was initially scheduled to be lifted at the end of July.
A West European PVC producer concluded their July sales with €5-15/ton increases across Europe. "Demand was stable on the month and balanced with supply during July. August will be a poor month in South Europe, while activities are set to be better in North West Europe," a source at the producer commented. "We will not produce extra volumes and will sell only our planned allocation for August although we are aware of the supply shortages from other producers," he continued. He had predicted a €30-50/ton increase for ethylene contracts, which would lead to €20-30/ton cost increases for PVC.
A West European producer implemented maintenance shutdowns at their VCM and PVC plants across Europe from mid-June until September. The producer has facilities in France, Belgium and Germany.
A distributor of a West European PVC maker had revealed their August sell ideas with €20-30/ton increases month over month out of their anticipations of seeing €50/ton increases in new monomer settlements. "We sold our July cargos with €10-20/ton increases. We received a few requests from buyers who want to purchase some cargos for end August. However, these purchasing intentions are for small quantities and most buyers will return to buy in the post holiday period," he noted. He believes that sellers will achieve increases as they will be selling to the rest of Europe considering the fact that Italy will not be that profitable next month.
On the buyers' side, a profile converter was offered a rollover for West European PVC k70 for August. "We refused this price since we are covered until the end of August as we purchased some extra cargos for the post holiday period," he mentioned. A pipe manufacturer said, "We asked for some West European k67 for the end of August whereas our supplier didn't sell it. We think that this is a signal about possible increases that producers want to obtain in August."
For the last couple of weeks, a nearby market, Turkey has been receiving relatively fewer PVC offers from Europe, which is an important supply source for the market according to ChemOrbis. A distributor commented, "Higher ethylene contracts and tight supplies from European producers may keep price levels stable in Turkey during August." Another distributor reported not making any inquiries for European PVC this week amidst calm activities during Ramadan, while adding that supply from the region is constrained.