"The aim of our partnership is to meet the demands of the market even more effectively and drive the industrialisation of composite processes forward even faster," says Franz Füreder, Vice President of ENGEL AUSTRIA's Automotive business unit. We are delighted that in Fill we have found a partner whose technologies are also the world's best and who, like ENGEL, prioritises research and development."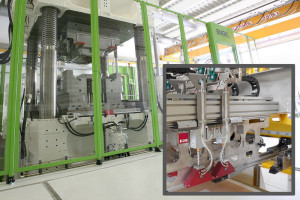 Components made from fibre-reinforced plastics (FRP) play a key role in automotive lightweight construction. At the moment, the biggest challenge is developing economic processes for the mass production of innovative composite parts.
With its system and automation expertise, injection moulding machine manufacturer ENGEL already has one success factor that is crucial for this. Fill enhances ENGEL's product portfolio in the area of preform manufacturing and processing. Franz Füreder says: "Interdisciplinary competence is absolutely essential if an FRP project is to be successful. It's only when the materials, designing and process steps are all coordinated with each other perfectly that the productivity and cost efficiency levels required in the automotive industry can be achieved."
ENGEL has been collaborating with partner companies, universities and other research institutes in the field of automotive lightweight construction for many years now and in 2012 set up its own technology centre for lightweight composites at its large-scale machine factory in St. Valentin, Austria. It was this that prompted the partnership with Fill as well. The two partners have already completed their first projects for international automotive groups successfully.