Coinjection technology frees the way for lowest unit costs and new material properties. At MSV 2013 from 7th to 11th October in Brno/Czech Republic, ENGEL will be demonstrating how to leverage additional efficiency potentials thanks to a combination of coinjection and tie-bar-less technology. A tie-bar-less ENGEL victory 330H/200V/120 combi equipped with an integrated ENGEL viper 6 will be producing fan blades in sandwich design live at the ENGEL trade fair booth in Hall G1.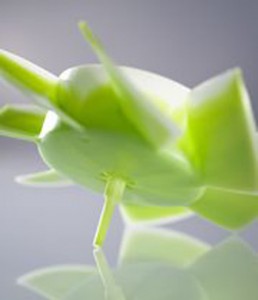 Whenever the requirement is to reduce unit costs even further while achieving a higher degree of process integration, the tie-bar-less ENGEL victory injection moulding machines are unbeatable in many applications. Large complex parts, often with a comparatively low clamping force requirement, are typical of multiple component and multi-colour applications.
Tie-bar-less technology is the only technology that lets the user select the injection moulding machine size to reflect the actual clamping force requirements rather than the mould size. Because the mould mounting platen on the tie-bar-less machine can be fully used up to its edges, an injection moulding machine two or three clamping force classes smaller is perfectly suitable for many applications. This keeps both the investment outlay and the operating costs low, while at the same time saving production floor space.
Tie-bar-less technology keeps machines compact and inexpensive
Further benefits of ENGEL's tie-bar-less technology are huge time savings and improved ergonomics during tooling, as well as barrier-free access for automation. The robot arm can reach into the mould horizontally directly from the side, thus making another contribution towards shortening the overall cycle time. At the same time, the production cell can be optimised with standard systems despite a low shop ceiling height.
Coinjection technology for manufacturing sandwich-built components meets a variety of requirements equally well. For example, inexpensive filler material or regenerated material can be used for the component's core to keep the unit costs down, while maintaining consistently high surface quality. Another example is efficient functionalisation of packaging with a barrier layer.
Maximum precision for extra safety
Coinjection technology with its high precision injection units is essential to be able to implement even thin intermediate layers reliably up to the edge. The multi-coloured sample parts produced at MSV intuitively demonstrate the high precision of the tie-bar-less ENGEL victory injection moulding machines.
ENGEL offers turnkey system solutions worldwide for highly-automated coinjection processes from a single source under the ENGEL coinjection brand. After all, efficiency potential can only be fully exploited where all system components are perfectly coordinated from the outset.
Source:  www.engelglobal.com/engel_web/global/en/22_4717.htm