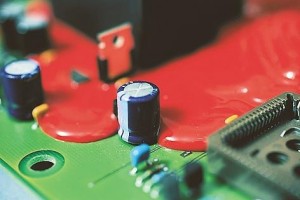 Grafenberg, October 16, 2013. Electronics competence from a single source – this is the slogan for RAMPF's presentation at productronica 2013 from November 12 – 15 in Munich. The Group companies RAMPF Giessharze, RAMPF Dosiertechnik, and EPUCRET Mineralgusstechnik are showcasing their latest products and solutions for the electronics industry: from electro casting resin to dispensing systems and customer-specific positioning and moving systems.
One company covering three key areas of electronics production with a single manufacturer: visitors to this year's productronica will be able to witness this at the RAMPF stand, where its companies RAMPF Giessharze, RAMPF Dosiertechnik, and EPUCRET are exhibiting.
Insulating, protecting, and embedding sensitive components
RAMPF Giessharze, a leading developer and manufacturer of polyurethane and epoxy resin systems and silicones, provides a wide range of individual solutions for insulating, protecting, and embedding sensitive components. The reaction resins specialist creates perfect casting systems for all electrical requirements.
Sensitive electronic components in cars, high-precision measuring, monitoring and regulating sensors and numerous other electrical components need reliable and efficient protection against chemical sub-stances and environmental influences such as hot, cold, and wet conditions. Electro casting resins from RAMPF provide a wide range of mechanical, thermal, and chemical properties for this:
High thermal and mechanical strength

High flame retardancy (UL-listed)

Manual or mechanical processing capabilities

Precisely adapted flow properties – from low viscosity to highly thixotropic

Settings precisely matched to process conditions

Variable hardness
This ensures the reliable insulation and embedding of sensitive electrical components.
The casting systems for electrical and electronic applications from RAMPF Giessharze meet the sealing re-quirements of protection classes IP67 and IP69, are certified to ISO/TS 16949, and conform to EU directive 2002/95/EC. The customized electro casting resins also undergo extensive quality tests and fulfill all the crite-ria of the automotive and electronics industries.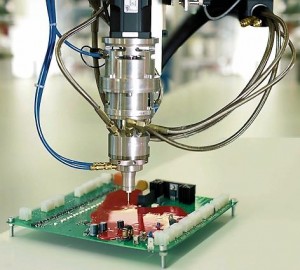 Dispensing systems for dual-component materials
With over 2,400 system solutions on the market worldwide, RAMPF Dosiertechnik is one of the leading manufacturers of low-pressure mixing and dispensing systems. The innovative systems for processing single-, dual, and multi-component reaction resin systems are also used in the electronics industry, where they en-sure the highest level of process reliability when applying highly filled heat dissipation materials to electronic assemblies.
Various fillers and additives are used so that the epoxy-, silicone- or polyurethane-based casting systems con-form precisely with the requirements of the relevant electrical function. The additives, and their distribution throughout the components to be dispensed, pose particular challenges to the pump system. This makes the choice of dispensing pump crucial to process reliability. The K-DP piston dispensing pump from RAMPF Dosiertechnik ensures precise dispensing, independent of fillers and viscosities. The benefits:
Variable dispensing quantities and times

Different chamber volumes

Low maintenance

Intelligent drive

Process monitoring
The K-DP from RAMPF Dosiertechnik is compatible with the following dispensing systems from the company: DC-CNC-1150, DC-CNC, CNC-DR, C-DS, and DC V AC.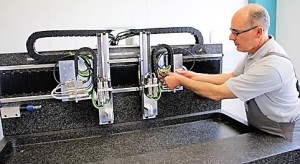 Innovative solutions for positioning and moving requirements
EPUCRET develops and produces high-end positioning and moving systems for all kinds of application areas and sectors – and does so cost-effectively, quickly, and to the highest standard. EPUCRET offers innovative complete solutions for customer-specific positioning and moving requirements based on state-of-the-art de-velopment tools, components, and production methods – from design and layout to production, installation, and commissioning.
Multi-axis systems that meet the strictest requirements in terms of dynamics (high-speed) and accuracy (high-precision) are the centerpiece of the EPUTRONIC portfolio. EPUTRONIC integrates complex control electron-ics into application-specific drive systems, thereby creating optimally coordinated, customer-specific moving systems. The benefits:
Manufacturer-neutral selection of drive and control components to satisfy the relevant positioning and moving requirements with optimum results

Integration of complex, coordinated drive systems via defined interfaces in machines and equipment

Seamless interlinking of all development and production stages – from machine basis, mechanics, and drives to control technology

Precommissioning services, with control system programming, visualization, control cabinet construc-tion, documentation, and conformity declaration