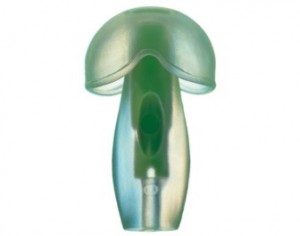 ELASTO, part of the HEXPOL TPE Family, have developed a Mediprene thermoplastic elastomers (TPE) compound which is being used in Happy Ears, high-quality earplugs which combine a unique design with advanced noise reduction and sound reproduction.
According to HEXPOL TPE, Happy Ears give an average noise-reduction of around 20dB at all frequencies. This means that the earplugs protect the ears from harmful noises as well as retaining sound quality and feeling. The unique construction, with a hardened "foot" at one end and a soft "leg" at the other, helps to preserve sound-quality whilst providing high levels of protection and comfort. Happy Ears are made from ABS in the core and Mediprene TPE on the outer surface.
Mediprene TPEs have been engineered to address the demands of the medical device industry, says HEXPOL TPE. Representative grades have passed cytotoxicity tests according to ISO 10993-5 and biocompatibility tests according to USP Class VI. The materials are latex free, which reduces the risk of allergic reactions. Therefore, Mediprene TPEs have been classified as non-sensitizers, a key factor in the decision to use Mediprene TPE in Happy Ears.
The softness of the Mediprene TPE compound means that when the earplug's soft hat is placed in the outer ear, it automatically molds itself according to the shape of the ear, becoming almost round. The soft material then tries to return to its original oval state and it is this which creates pressure against the outer ear canal. This pressure means that the Happy Ears earplug fits securely, thus preventing sound from reaching the eardrum.
Source: http://www.adsalecprj.com/Publicity/MarketNews/lang-eng/article-67003194/Article.aspx