RAMPF presents all-encompassing range of electro casting resins and dispensing technology at productronica China 2015
Grafenberg, 02/16/2015. The international RAMPF Group is presenting its holistic range of engineering and chemical solutions for the encapsulation of electrical and electronic components at productronica China 2015 from March 17-19 at the Shanghai New International Expo Centre – hall E1, booth 1642.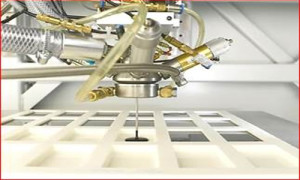 As a diversified group with a global presence, the German-based RAMPF Group offers customers cutting-edge technologies and solutions from a single source. At productronica China, RAMPF will showcase its all-encompassing range of electro casting resins, as well as low-pressure mixing and dispensing systems – true to the motto "Product. Machine. Process. From a single source."
Electro casting resins from RAMPF Polymer Solutions
Sensitive electronic components in cars, high-precision measuring, monitoring and regulating sensors, as well as numerous other electrical components are reliably and efficiently protected against chemical substances and environmental influences such as hot, cold, and wet conditions. Electro casting resins from RAMPF based on PU, epoxy, and silicone – RAKU-PUR, RAKU-POX, and RAKU-SIL – guarantee the efficient encapsulation of electrical and electronic parts and provide a wide range of mechanical,thermal, and chemical properties such as:
 high thermal and mechanical strength
high thermal conductivity
 high flame retardancy (UL-listed)
 manual or mechanical processing capabilities
 precisely adapted flow properties, from low viscosity to highly thixotropic
 settings precisely matched to process conditions
 variable hardness
RAMPF's RTI range of electro casting resins with high thermal endurance will also be presented at productronica China. The newly developed RTI resins have outstanding thermal endurance and thus maintain their attributes and functions over time, even in extreme conditions.
Dispensing systems for manual and automated production processes from RAMPF Production Systems
With over 2,700 system solutions on the market worldwide, RAMPF Production Systems is one of the leading manufacturers of low-pressure mixing and dispensing systems. The innovative systems for pro-cessing single, dual, and multi-component reactive resin systems are used in the electronics industry, where they ensure the highest level of process reliability when applying highly filled heat dissipation ma-terials to electronic assemblies.
In addition to the core competence of mixing and dispensing technology, RAMPF Production Systems provides customers with a broad range of automation and conveyor systems for internal logistics, addi-tional assembly and joining technology, as well as logistic and quality assurance solutions. The custom-er-specific solutions also include the integration of testing and measuring technology into production facilities to safeguard production processes.
RAMPF (Taicang) – German technology made in China
At productronica China, RAMPF will be represented by its Chinese subsidiary RAMPF (Taicang), which was founded in 2007 in Taicang, a city 50 kilometers from the center of Shanghai. The company pro-duces electro casting resins and foam gaskets formulated by RAMPF Polymer Solutions, as well as mineral cast machine beds from RAMPF Machine Systems. "We are proud to call the Shanghai area our home," says Fabian Werner, Managing Director of RAMPF (Taicang). "Here, as in all RAMPF subsidiar-ies, we fully adhere to the highest quality and production processes set by our German parent compa-ny."
Website:  www.rampf-gruppe.de