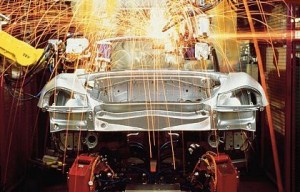 The Stuttgart region lies in the heart of the largest industrial area of  Europe and is one of the world's most important economic centers. The  region is characterized by its high level of technology and the key  branches of industry that are located here: automobile manufacturing,  machine building, electrical engineering and creative industries as well  as the information and communications technology sectors.
There is a  mixture of companies such as Daimler, Bosch, Porsche, IBM, Hewlett  Packard that are active around the world, and many other large and  medium-sized companies with such well-known names as Stihl, Mahle,  Werzalit, Coperion, Festo, Dieffenbacher, TPS, Tecnaro, Märklin or  Kärcher that are market and technology leaders in their respective  fields.
A characteristic of all of them is their international outlook and  level of exports.Stuttgart is also a leading center of industrial research and development, with 24% of all high-tech jobs located in Stuttgart region. This makes the Stuttgart region one of the most innovative metropolitan  areas in Europe. It has already been honored several times with the  "Award of Excellence for Innovative Regions" by the European  Commission. Situated enticingly in one of the largest wine-growing regions of  Germany, the "Swabian capital" fascinates visitors from around the  world. Stuttgart offers not only an exciting panorama, with impressive  gardens and parks, attractive squares, stately castles, palaces and  buildings in a variety of architectural styles, but any number of cultural  institutions.
With its top-class collection, the Stuttgart State Gallery (Staatsgallerie  Stuttgart) counts as one of the most frequently visited art museums in  Germany.  The Stuttgart Art Museum (Kunstmuseum Stuttgart), a cube of glass,  makes an impression day or night. During the day, its elegant architecture blends easily into the surrounding city environment, while at night it  floats over Königstrasse as a sculpture of light. The sensational world of Mercedes-Benz is a magnet for all visitors to  Stuttgart.
Covering over 15.000 m 2 of exhibition space on nine levels,  the Mercedes-Benz Museum displays some 160 vehicles: The first  models – Gottlieb Daimler's motorized coach and the patented  motorized wagon of Karl Benz, both dating from 1886 – can be viewed  along with the newest production vehicles.  In January 2009, Porsche opened a new and architecturally fascinating  automobile museum. In this "floating" structure, a 5.000 m 2 exhibit of  about 80 chic sports cars chronicles the interesting history of the  automobile manufacturer.