In 2014 we are celebrating 100 years in providing innovative color solutions to the Plastics, Coatings, Construction and Cosmetics markets as well as to a wide range of other global industries.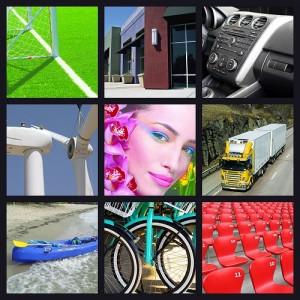 Everything started in 1914, when we built a small factory in Barcelona to produce laundry grade Ultramarine Blues to make white cotton clothes look whiter. 100 years later, we have become the world's largest Ultramarine producer. We are the only company with 4 plants dedicated to the production of this pigment. Moreover, we are a global leading manufacturer of other specialty inorganic pigments with particular focus on the high end grades of each range: Iron Oxides, Zinc Ferrites, Chrome Oxide Greens, Chrome Yellows and Molybdate Oranges, Corrosion Inhibitors and Bismuth Vanadates.
As the world market became global, our company, headquartered in Barcelona, has expanded globally, too. In 1944 we opened a factory in Llodio (Spain) which is nowadays dedicated to the production of high added-value Ultramarine Blue, Violet and Pink pigments. In 1969 we set up a production plant in Colombia, our plant for specialty Iron Oxides and Zinc Ferrites, also producing Ultramarine Blues, Chrome Oxide Greens, Chrome Yellows and Molybdate Oranges and Corrosion Inhibitors. In 1992 we acquired our plant in Romania, where we manufacture our Label-Free Corrosion Inhibitors and a wide variety of Ultramarine Blues.
Two years later, we acquired a plant in India for the production of Ultramarine Blues for the Asian market. We broke into the USA in 1999, but it was in 2003 when we invested in our current North America headquarters in Norcross, Georgia, where we have our offices, technical center, warehouse and specific manufacturing facilities to make pigment preparations. Since the early 2000s we have also been expanding our sales office network- Japan, China, the UK, and Germany.
In total, we have 5 production plants and 9 commercial sites in key strategic markets, which allow us to have a strong global presence while maintaining regional warehousing and customer service to over 85 countries. This makes us close and available to our customers and distributors at any time.
Since the foundation of the company, we have focused our growth on developing high added-value solutions by continuously investing in R&D. Our head R&D and Applications laboratory was set up in Barcelona in 1970. At present, we also have Applications laboratories in the USA, Colombia, India and Romania, where our global team of more than 50 highly skilled technicians is constantly innovating to develop new products. This strong investment has permitted us to successfully navigate all the challenges in the pigments industry throughout the years.
Our company has always endeavored to achieve sustainable growth that minimizes the environmental impact of our activity. Thus, we continue creating environmentally friendly production processes and developing pigments that are more respectful with the environment.
We truly believe that team work has been and continues to be a key factor to reach our achievements. Cooperation with our distributors, customers and suppliers has made it possible to form long-term trustworthy partnerships resulting in better solutions to meet growing market needs.
We feel passion for assisting our customers in reaching their goals. That is why we will keep on working to continue being a reliable partner and deliver enhanced solutions which meet their requirements.At Nubiola our passion is our customers' colors.
For more information: www.nubiola.com