BASF will present a number of innovative products at the "Design x Innovation" concurrent event at CHINAPLAS 2015.
One of the exhibits is the new Puma IGNITE running shoes made with BASF's high performance materials Elastopan and Cellasto for the shoes' sole.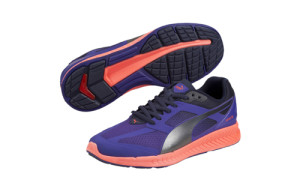 Elastopan is a multi-component polyurethane (PU) foam system that provides virtually unlimited design freedom in terms of shape, color and texture. Cellasto is a microcellular PU elastomer that has superior physical properties when it comes to isolating vibrations from whatever source.
Another eye-catching exhibit will be the BMW i3 electric vehicle (EV), with its body and frame completely made out of carbon fiber reinforced plastics (CFRP). It is the most extensive use of carbon fiber in a mass-produced car to date.
For the BMW i3, BASF has supplied several innovative plastics materials as well as technical design expertise specifically related to the part development for the backrests of the front seats, key reinforcement parts in the carbon fiber body and the rear seat shell.
BASF will also show the world's lightest airplane trolley – Quantum Trolley – produced by Norduyn Inc. The foamed Ultrason inside the trolley walls weighs only 40kg/m³.
Compared to a trolley made with traditional metal materials, a trolley made with Ultrason is 40% lighter (about 10kg), a total of around 140kg weight savings for an Airbus A321 airplane.
It features BASF's Ultrason amorphous thermoplastics in the door latch housing and extruded profiles. Additional characteristics include its high temperature strength, stability, insulating properties, inherent flame retardance and low moisture uptake.
How would the first pedal cycle have looked like if it had been built with today's advanced materials? At the show, BASF is bringing to China the first time its 1865 concept bike, which was designed to rebuild the 19th century bike as a modern bike.
Jointly developed by DING3000 design studio and BASF's designfabrik, the concept bike, which makes use of 24 different BASF materials, is an answer to that question.
Website:    www.adsalecprj.com