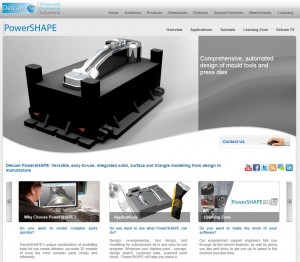 Delcam has launched a new website for its PowerSHAPE CAD system – www.powershape.com – which details the many advantages of using the software for both product design and tooling design. The new site includes links to the PowerSHAPE learning zone, where existing users can learn about, and see demonstrations of, the latest functionality, and to the PowerSHAPE-e website, where potential customers can download an evaluation version and view introductory tutorials on how to use the program.
PowerSHAPE offers a unique combination of robust solid modelling, flexible surface modelling, and quick and easy direct modelling, plus triangle modelling for editing STL files and other triangle formats. Overall, it provides the most comprehensive range of modelling techniques available in a single CAD program. Having all the different technologies in the same package reduces the need to transfer data between multiple programs and so streamlines the whole product development process.
This broad range of functionality makes PowerSHAPE ideal for the re-engineering of existing products into improved designs or for creating customised items, such as medical devices for an individual patient or sports equipment for a specific athlete. At the same time, the combination of direct modelling options, together with powerful and flexible surface modelling, makes PowerSHAPE the perfect choice for design for manufacture, especially when converting product designs into tooling designs.
PowerSHAPE also includes the Solid Doctor, a comprehensive set of tools for the repair of CAD models from all sources, including IGES, STEP and native CATIA and Creo files. It can be used to tackle all the common problems that are found when translating low-precision and incomplete data, including gaps and overlaps between surfaces, or duplicated and missing surfaces, and generate a valid, high-precision solid model.
A more recent addition to PowerSHAPE is a range of direct modelling functionality that will speed up and simplify concept development, and enable tooling designers to tackle all the common problems that they find in product designs, such as insufficient draft or inappropriate fillet sizes. These new options have been made as accessible as possible by enhancing existing commands rather than grouping them in a separate area of the software.
Another powerful PowerSHAPE option is Smart Surfacing, which makes surface modelling much easier than other systems. The user simply selects a set of curves around an area and PowerSHAPE analyses the curves to determine the most appropriate way to create the surface automatically. Alternative solutions can be displayed if the first surface is not of the type required.
PowerSHAPE also incorporates Delcam's unique Power Features technology. Components that contain Power Features react with connecting components as they are placed within an assembly, adding all the necessary fit-features to the appropriate parts. The tolerances between the various components can also be defined automatically as each item is added. This automatic creation of relationships makes the development of the overall design much quicker and also makes errors in the design process far less likely.