In Asia, upstream production costs for PET have been on a decreasing trend as per the pricing service of ChemOrbis. Prices have seen large drops, especially for PX and PTA. MEG, meanwhile, has managed to remain relatively stronger although prices indicate decreases for this feedstock, too.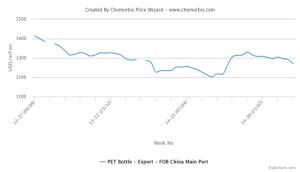 Looking at spot market prices in Asia, PX costs have shed three digits, falling by $115/ton, and PTA plummeted by $45/ton since the beginning of August. However, MEG costs remained rather firm as spot market levels indicate $15/ton decreases on a month over month basis for this feedstock.
Lower upstream costs coupled with thinning PET demand continued to pull down the Asian PET markets. Export PET prices out of China came under the levels reported at mid-June. On a weekly basis, FOB China based prices weakened by $10-20/ton while prices on FOB South Korea basis softened by $20/ton. Inside China's local market, the trend was the same as offers shed CNY200/ton ($32/ton) at the end of last week.
A converter operating in China reported receiving CNY200/ton ($32/ton) decreases when compared with the previous week. "Lower offer levels caused us to adopt a more cautious attitude as we want to watch the market before making purchases. We believe that upstream costs will continue to soften in the days ahead."
A source at a Chinese producer said, "We lowered our export prices by $20-30/ton on the week since PTA and PX prices have been weak recently. Local demand is relatively better as converters continue to make purchases, albeit on their needs basis. Demand is still muted but we feel the beverages industry has shown some improvements when compared to last year. At the moment, we are ramping up our production rates gradually since our previous shutdown. Our supplies are still tight but due to thin demand, supply issues have not been felt." According to him, Southeast Asian PET markets are also weak with buyers anticipating further declines on PET prices. "The expected pick up on demand coming from the textile sector ahead of the winter season has not happened yet. So, the PET market outlook remains weak for over the short term," he further added.
Meanwhile, in Southeast Asia, average PET prices lost around $70/ton since the end of June on CIF Southeast Asia basis, according to ChemOrbis. Some sellers have started to argue that their margins have narrowed too much so they will try to remain firm on their present offer levels. However, at the same time, buyers reported holding sufficient stocks to work with at least until the end of this month.