Mumbai, 30th July 2013 – Mini Blow Moulding Machine model DI 100 provides good quality product, fast production and reliability with flexibility to produce wide range of products on the same machine. The Mini Blow machine has been widely accepted as it offers fast production at reasonably low power consumption and requires very small space than any machine available in the industry. The mini Blow machine is very simple to operate; user friendly (eliminates high skilled operators) and compact.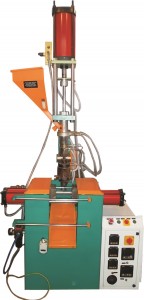 Mini Blow machine can produce products from 0.5 ml onwards to 200 ml capacity as per model. The Mini Blow is also most suitable for development and production of critical Blown products not economical on other machines. Products From 0.5 ml and thickness as low as 0.2 mm Mini Blow is also a preferred choice of many designers and product developers worldwide. The Mini machine model offers efficiency, convenience and profitability with benefit of low initial investment.
Mini Blow moulding Machine is available in 50, 100 & 200 ml models and also in Screw type models in 250ml, 500ml, 1, 2 and 3 litre capacities. Machines are suitable to process polymers like LDPE, LLDPE, HDPE, Polypropylene, PS, HIPS, EVA etc. The mini model is suitable to produce wide product range on it to cater to various industry requirements by just changing molds as required on same set up. Mini Blow Machine Caters to requirement of Various Industries like Pharma, Cosmetic, Medical, Chemicals, Oral Care, pesticides, Agrochemicals, Veterinary Products and Others.
Mini Blow Machine model well designed for Compactness (Space saving), Fully automatic, Pneumatic (No Motor in the machine) for considerable power savings, Adapted to operate on both Single as well as Three (3) phase making it convenient to be installed even in Rural areas, encouraging self employment. The Machine is also best suited for Entrepreneurs to start and sustain own industry with low initial investment and recurring working capital providing quality with increased output. These are equally efficient in commercial production houses.
Features:
• Fully Auto with Semi & Manual Cycles Options – Simple (easy) Operations
• Fully Pneumatic (No Motor in the machine)
• Works on Air Compressor – provides considerable power savings
• Compact Design (Space saving), precise performance and robust construction
• Variable weight Adjustment in Head
• Quick Mould Changes
• Fitted with Universal platen – to accommodates bigger volume molds
• Flexibility of producing Wide product range on same machine (0.5 ml – 200 mls)
• Adapted to operates on both Single or Three (3) phase power supply
• Ideal for Entrepreneurs, Rural area installation, Industry development.
• Option of PLC (micro processor) based controls available
• Available in Screw type models in 250ml, 500ml, 1, 2 and 3 litre capacities.
Machine Best Suitable for:
• Commercial production of blown articles (0.5 ml – 100 ml)
• Educational Demonstrations in Plastic Engineering Institutes
• Government Development & Training centres for Entrepreneurs
• Testing Laboratory
• Most appropriate for Entrepreneurs – Provides learning platform & confidence for setting higher level industry amongst Entrepreneurs
• Blown articles development & sampling of critical applications
Website: www.davetechnical.com