Global economic growth is generally interlinked to petrochemical consumption where plastic is an important partner.
Plastic processing is the pillar of economy in most of the advanced economies. Per capita consumption of the world is 28 kg whereas India's 11 kg and China 38 kg, Brazil 32 kgs. USA, Germany, UK, Italy, Spain, Australia, Japan, Korea, Taiwan it is more than 100 kg. This means India has big potential to grow and many opportunities. India's per capita consumption one of the lowest in Asia.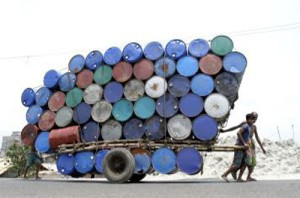 An overview of Indian Processing Industry
India Per Capita Consumption of Virgin 11 kg & Recycled 3.8 kg
Virgin Polymer consumption in the year 14-15 – 14 MMT
No. of Converting / Processing units – in organised sector – 30,000 plus in unorganized sector 20,000
No of processing Machines – 113,000
Processing Capacity – 30 MMT
Processing Capacity CARG – 13 % last 5 years
No. of Plastics Machinery Manufacturing units in India 200 plus
Investment in Machinery US$ 5 Billion
Investment required for next 5 years around 10 Billion US$ (Project Investments)
Size of Plastic & Polymer Industry –Rupees 1,44,000 Crores
Indian Technology competing globally
Plastics Machinery manufacturing in India is well developed with presence of world leading technologies and our own high tech entrepreneurs including plastic processors which makes us proud that it is Made in India, reversal of earlier impression a decade ago. So we have good growth in exports.
Compounding Lines, Tape Lines & looms, Multilayer Film plants, ,Pipe plants, Injection Molding Machines, Rotomolding Machines, Thermoforming Machines, Auxiliary equipment such as Material conveying systems, Mold temperature controllers & chillers, bag making machines, etc.
Major Polymers – Manufacturing Capacity
Manufacturing Capacity is being continuously augmented to meet increasing demand
Indian Polymer Demand: ~24MMT by 2022/23
The players are : Reliance, Haldia, GAIL, IOCL, OPAL, ONGC, Finolex, SANMAR, Shriram, DCW, Mittal, Bharat Petroleum.
Indian petrochemicals Strength
Availability of skilled manpower and training centers
Presence in all key segments of downstream plastic processing
Large entrepreneurial skill base
Large and growing market for converted products
Revolution in Automobile & Retail segment and now in Agriculture
Large consumption base for specialty Chemicals.
By 2020 the future Mission – India
Productivity growth to help India sustain > 8% growth Per Capita GDP will more than double current levels Indians will buy 5 times more cars auto manufacturing hub More than 100 million people will enter labor force 140 million rural dwellers to move to urban areas Infrastructure investments (Rail, Road & Ports) to match global standards We expect Per capita consumption of 20 kgs of plastics by year 2020 Create employment opportunity for 6 million workers in the segment. (from current level of 4 million workers in plastic industry, directly and indirectly.
Indian scenario of Plastic exports
During 2014-15 our Plastics Exports were around US$ 7.2 Billion, out of this:
Raw Material i.e. Polymer accounted for 38% i.e. US$ 2.74 Billion
Finished Plastics Products export accounted for US$ 4.46 Billion.
For the current year (2013-14), Our Export Target for Plastics Finished Products is US$ 4.82 Billion – a growth of nearly 8%.
Website:                                    www.moneycontrol.com