Chinese automakers have traditionally been a step behind European marques when it comes to polypropylene (PP) usage, employing an average of 45-55 kg per vehicles compared with 60-65 kg for a VW vehicles made in China.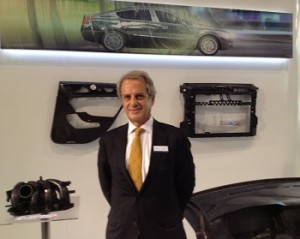 This is primarily due to smaller vehicles sizes but even in larger Chinese vehicles, there is limited application in structural components.Moving forward, however, local OEMs are as Chery and Chang'an Automobile are looking to use higher levels of PP performance materials, realizing they too need to improve fuel efficiency and lower emissions if they are to be successful in home and export markets.
This was revealed by Umberto Granata, Vice President, Marketing Centre Mobility at Borouge Sales and Marketing (Shanghai) Co. in an interview at the recent Chinaplas show. Borouge compounds PP in China at a site in Shanghai with capacity of 50,000 tonnes/yr. This will be expanded to 90,000 tonnes/yr by the end of 2014 according to Granata, to tap growing demand for automotive PP compounds in China.
Usage of PP in vehicles remains highest in Europe and some new luxury vehicles are reportedly employing up to 90 kg. "D-segment [large] cars in Europe traditionally use PC and PC/ABS extensively but we are also seeing PP make inroads here," says Granata. "To further application in this segment we are developing new PP compounds featuring lower chemical emissions and enhanced scratch resistance," he adds. "Development will come over the next two years and we are adopting both additive and filler particle size to address these issues."
Granata also sees more opportunities under-the-hood for PP substituting polyamide (PP). "PP is normally good for continuous usage up to 140°C, which prevents its application in air intake manifolds for turbo engines but analysis of actual working temperatures indicates there are a lot of areas where the temperature is below 140°C," he notes. "The three main advantages of PP are lower density, lower water adsorption, and cost," he adds. Borouge is also currently deploying a new family of short fiber-reinforced PP grades, with some grades for intake manifolds already commercial, and others to come in the next 12 months.
Source: www.plasticstoday.com/articles/chinaplas-2013-more-opportunities-auto-grade-pp-under-hood-and-structural-20130529a