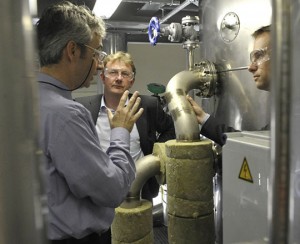 Royal DSM N.V., the global life sciences and materials sciences company, has opened its third production unit for Stanyl® ForTii™ high performance polyamide. The plant is co-located with DSM's two existing plants in Geleen, The Netherlands. The capacity increase is needed to meet the strongly growing market demand for the new polymer, used in electronics, automotive and other markets.
Roelof Westerbeek, President of DSM Engineering Plastics, says: "We are excited to see the high level of customer interest in this high performance polymer. Only four years after its initial market launch, we are now expanding capacity for the second time. The move underlines DSM's strong commitment to material sciences and to continuously invest to meet the demands for our customers for more sustainable and innovative materials."
Ivo Lansbergen, Business Director of DSM's Stanyl and Stanyl ForTii product lines, says: "The extremely low warpage and lower environmental footprint of Stanyl ForTii versus alternative solutions like LCP (liquid crystal polymer) or PPA (polyphthalamide) have been key drivers for some major OEMs to select Stanyl ForTii as their preferred material solution. Stanyl ForTii is now widely used in many of today's booming IT applications such as smartphones, tablet computers and ultrabooks."
Stanyl ForTii allows designers in the electronics industry to solve the challenge of creating connectors that do not warp after assembly to printed circuit boards (PCBs); this challenge is growing, owing to thinner, longer connectors and PCBs, especially when they are joined using high temperature reflow soldering. Stanyl ForTii has a low and isotropic CLTE (coefficient of linear thermal expansion) that matches that of the PCBs. The CLTE is also very similar to that of steel and aluminum, so automotive customers can realize even more aggressive metal replacement programs than before to reduce weight, improve fuel economy and cut emissions.
Stanyl ForTii is characterized by its high temperature resistance and mechanical performance, combined with very high stiffness. All flame retardant grades are using halogen and red phosphorous free flame retardants.
DSM – Bright Science. Brighter Living.™
Royal DSM is a global science-based company active in health, nutrition and materials. By connecting its unique competences in Life Sciences and Materials Sciences DSM is driving economic prosperity, environmental progress and social advances to create sustainable value for all stakeholders. DSM delivers innovative solutions that nourish, protect and improve performance in global markets such as food and dietary supplements, personal care, feed, pharmaceuticals, medical devices, automotive, paints, electrical and electronics, life protection, alternative energy and bio-based materials. DSM's 22,000 employees deliver annual net sales of around €9 billion. The company is listed on NYSE Euronext. More information can be found at www.dsm.com.