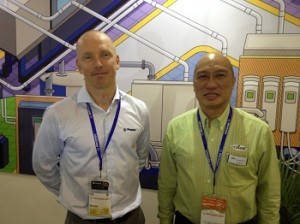 Plastic molders and extruders that serve automotive and packaging markets in China are finding that central material storage and conveying systems, and central chilling systems are good investments in today's manufacturing environment, according to auxiliary equipment and systems specialist Conair (Cranberry Twp., PA).
Explains Joachim Lim, General Manager, China, for Conair, "Automotive molders have been experiencing rapid growth and they are finding that the materials they are processing today are more expensive and quality standards are much higher. At the same time, they are having difficulty hiring enough reliable labor to meet production demands. All of these factors put together mean they are looking for system solutions that will increase efficiency and conserve valuable resource."
One such processor is YAPP Automotive (Yangzhou, China), which recently installed a centralized silo and conveying system as well as machine-side granulators for scrap and reject recycling at one of its plant. The facility in question molds multilayer gas tanks using HDPE and EVOH as a barrier material. According to Lim, the nucleus of the system is a 200 cubic meter silo for HDPE. EVOH is added individually at each of the five Kautex Maschinenbau (Bonn, Germany).
Each machine also has its own dedicated press-side silo (five cubic meters) for handling scrap. Also press-side are model 600-90 granulators from Rapid Granulator AB (Bredaryd, Sweden) with throughput of up to 2,500 kg/hour. "They are large enough to accept complete tanks mainly generated during start-up and also used to recycle trim scrap," says Bengt Rimark, marketing manager at Rapid.
"The tanks are also thick, meaning the material inside is still very soft when you granulate, making the job challenging," says Rimark. "And it makes sense to use a single large granulator for both trim scrap and reject tanks in order to prevent cross-contamination and reduce in-plant logistics requirements. "In the auto sector, awareness of the production process is higher and processors can understand the cost if something goes wrong," notes Rimark.
Just prior to Chinaplas, Rapid started production of its 500 Series granulators at its Chinese plant located in Shanghai. Coupled with the recent production start-up of 300 and 400 Series granulators in China, Rapid now manufactures all of its granulator models in China as well as at its plant in Sweden.
Source:
www.plasticstoday.com/articles/chinaplas-2013-auto-gas-tank-molder-opts-centralized-material-storage-localized-recycling-hdpe-evoh-20130529a