At K 2013, Bayer MaterialScience will present a small mechanical injection pump made with Makrolon Rx polycarbonate (PC)-based material. With this tiny pump, patients can administer their own medicines with high dosing accuracy, giving them both mobility and security.
"To realize the pump's compact design, a high-tech material was required that satisfied stringent demands and is approved for this use," explains Dr. Berit Stange, an expert in medical technology applications at Bayer MaterialScience.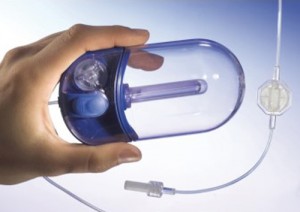 Makrolon Rx is well-suited for this purpose, according to Bayer. All housing components are made of this material. Its transparency allows patients to immediately check the filling level of the medicine. Furthermore, the high impact strength and durability of Makrolon Rx makes the pump suitable for daily use. It can also be sterilized through high-energy radiation and is resistant to a broad spectrum of pharmaceuticals.
Another highlight from Bayer is an insulin pen made of the Bayblend M850XF PC blend. This small device with the size and appearance of a ball-point pen makes life easier for people who suffer from diabetes. They can administer the desired dose of the medicine to themselves in a simple and user-friendly manner. Bayer says the material is particularly well suited for injection molding of thin-walled components such as those used here.
All materials offered by Bayer for the medical technology sector satisfy the biocompatibility requirements established by the USP Class VI and ISO 10993-1 standards, and are approved for contact with bodily fluids.
The company notes that the entirely mechanically operated injection pumping is still waiting for regulatory approval.K 2013 will be held in Düsseldorf, Germany from October 16-23.
Source:  www.adsalecprj.com/Publicity/MarketNews/lang-eng/article-67007156/Article.aspx