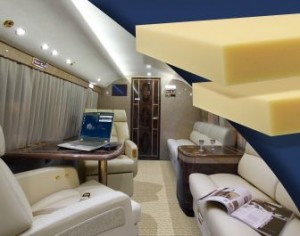 A luxurious version of Russian Mi 8 helicopter is equipped with an improved sound insulation system made of BASF's Basotect. Passengers no longer need to wear hearing protection when boarding, according to the German chemicals company.
Vemina-Aviaprestige, headquartered in Moscow, is the company responsible for all interior furnishings of the helicopter. They opted for a custom-fit insulation system with Basotect. This open-celled melamine foam is affixed to selected noise intensive points at a thickness of 40mm. It is coated on both sides with a water-repellent fleece. The system is produced and fitted by StandartPlast, a provider of acoustic systems solutions for the transport industry.
While conventional systems were used in the past to insulate against the clatter of the five rotor blades, Basotect UL has been successful at significantly reducing noise. "The noise level inside the helicopter dropped from 85 to 80 decibels, making the use of hearing protection unnecessary," explains Sergey Milek, Chief Operations Officer at StandartPlast.
The sound insulation system has been tested and certified in accordance with the Russian GOST norm 20296-81, which requires a noise level test to be performed in the passenger compartment at a frequency of one kilohertz. StandartPlast uses the lightest version of Basotect that weighs only 6g/L, thus reducing the weight of the helicopter's sound insulation system by 80%. This amounts to 240kg, which allows for an increase in passenger capacity or flight range. Basotect's fire protection properties were also a prerequisite for the use of such materials in aviation.
Sergey Davydov, Chief Operations Officer at Vemina-Aviaprestige, says the company is trying to incorporate the Basotect sound insulation system as standard equipment, "We are convinced by the material's acoustic properties, and we are currently testing whether the Basotect solution can be implemented with other helicopter models as standard equipment."
This particular helicopter from the Mi 8 series is manufactured in Kazan, the capital of the Republic of Tartarstan in Russia. The rotor blades have a diameter of around 22m, and the helicopter can reach a top speed of 230-250km/h.
Source : http://www.adsalecprj.com/Publicity/MarketNews/lang-eng/article-128143/Article.aspx