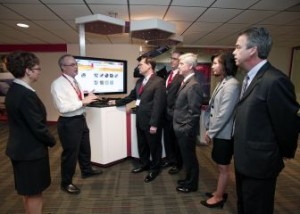 DuPont opened its eighth Innovation Center inside its Automotive Development Center to facilitate the collaboration with global automotive industry. The new center is located at Troy, Michigan and is the company's fourth Innovation Center focused on automotive.
"Auto customers' expectations for energy efficiency and performance continually increase. The automotive industry must increase the rate at which new technologies are adopted," said DuPont Executive Vice President and Chief Innovation Officer Thomas M. Connelly. "Our Innovation Center at Troy will accelerate introduction of new products and applications in support of the automotive industry."
The opening featured a panel of thought leaders which discussed how the multiple technologies designed to improve vehicle fuel economy and lower carbon dioxide emissions are changing value-chain relationships and demanding higher-performance materials. The panel, facilitated by IHS Automotive Consulting Managing Director Mike Robinet, featured FEV, Inc., President and CEO Gary Rogers, Chairman Emeritus of the Center for Automotive Research and Auto Harvest CEO David Cole, as well as DuPont's Connelly.
DuPont offers more than 100 materials and product families for the global automotive industry. Apart from the Troy Innovation Center, the company's other Innovation Centers focused on automotive are located in Pune, India; Seoul, Korea; and Nagoya, Japan.
Source : http://www.adsalecprj.com/Publicity/MarketNews/lang-eng/article-128140/Article.aspx