WINONA, MINN., USA – (June 17, 2014) — PlastiComp, Inc., a global leader in long fiber thermoplastic (LFT) materials and technologies, announced that it has introduced a line of basalt fiber reinforced LFT composites.  These new long fiber products offer a significant increase in performance over short basalt fiber filled materials and are available in multiple resins matrices with 30-60% by weight fiber loadings.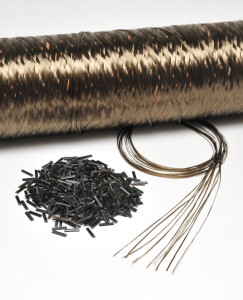 "During development of these new basalt LFT's, we saw across the board increases in mechanical properties that were as much as 40% higher than chopped fiber grades." said Eric Wollan, business development manager at PlastiComp.  "That is a huge boost which makes PlastiComp's long fiber variants a serious contender for those considering basalt."
"As an innovator in long fiber composite development, PlastiComp is always examining new additives and processes," said Wollan.  "We have had interest from the automotive and construction industries for basalt fiber materials because of its ability to resist corrosion."
Derived from volcanic rock, the beneficial characteristics of basalt fiber include excellent corrosion resistance, high abrasion resistance, and inherent fire resistance.  Basalt fiber is known for retaining its performance at cold temperatures and for not being degraded by UV or electromagnetic radiation.  It has uses in marine environments, concrete contact, and underground applications because of its high corrosion resistance.
For more information on PlastiComp's LFT products and technologies, please call +1 507-858-0330, e-mail [email protected], or visit their website at www.plasticomp.com.