Industrialization of the manufacturing processes allows cost-effective production of fiber-composite components: Fill demonstrates concentrated expertise at Composites Europe 2013.Fill automates CFRP processing, thereby facilitating highly profitable mass production. At the Composites Europe international trade fair from 17 to 19 September in Stuttgart, the Upper Austrian company presented precise processing of the latest composite materials. Fast, flexible and cost-effective.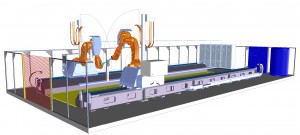 Stuttgart/Gurten, 02 October 2013 – "We support our customers on the road to series production with well-engineered, high-tech solutions along the entire production chain. The reception from the international visitors to Composites Europe 2013 was outstanding," reports Wilhelm Rupertsberger, Manager of the Plastics Competence Center at Fill. The high level of interest showed that the demand for lightweight CFRP structural parts is continuing to rise.
Above all in the aerospace industry, in car body components, and in the production of rotor blades for wind power systems, use of CFRP is increasing. The positive properties of the materials speak for themselves: lighter in weight, more economical in terms of fuel consumption, friendlier in terms of the emissions balance. "Substantial financial benefits predominate with our composite production systems. The added value for the customer is obvious," says Wilhelm Rupertsberger.
Fiber and preforming
Another highlight on the Fill exhibition stand were the laying systems for particularly wide dry fibers based on the speedlayer prepreg laying system. The integration and automation of effective cutter systems for producing semi-finished fiber products opens new avenues in the field of fiber and preforming. The newly developed, robot-controlled, 3D cutter is supplied with a standard Sinumerik 840 D.
High-volume production of composite parts
Cost-effectiveness and quality are the focus of attention with all Fill machines and systems. The latest example of this was presented at Composites Europe in Stuttgart. In cooperation with Engel, the global market leader in injection molding systems, integrated systems have been developed for the high-volume production of composite parts for the thermoplastics sector. The innovative system solution impresses with enormous productivity and robustness.
Corporate data
Fill is a leading international machine and plant manufacturing company for diverse branches of industry. The family-owned business excels in the use of the latest technologies in management, communication, and production. Business operations encompass the fields of metal, plastics and wood for the automotive, aircraft, wind energy, sport and building industries. The company is the global market leader in ski and snowboard production machines and aluminum core removal technology.
Andreas Fill and Wolfgang Rathner are joint CEOs of the company founded in 1966 that is still completely family-owned. The company became a public limited company (GmbH) in 1987, was certified in accordance with ISO 9001 in 1997, and now has more than 590 employees.Further information can be found at: www.fill.co.at