Pump Solutions Group (PSG), a business unit within Dover Corporation, unveiled the new Automatik Plastics Machinery Sphero S underwater pelletizing system at CHINAPLAS 2014.
The new pelletizing system is designed for larger and more customizable systems with a variety of upgrades. It is suitable for compounding, masterbatch and recycling applications with medium throughputs, typically between 500-3,000kg/h.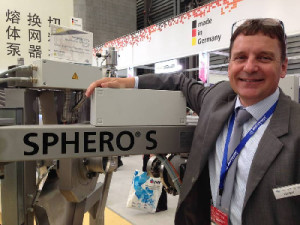 Major advancements in the Sphero S include new pneumatic diverter valves that can optimize the flow channel and ease the cleaning of the cutting chamber, as well as a user-friendly, ergonomic design for easy cleaning and quick changes of the knives, according to the company.
Other improvements include a new frame that allows it to be mounted on a single mobile structure, thus reducing footprint. The water bypass design has also been fine-tuned resulting in a speedier start-up. In addition, Automatik Plastics Machinery said special attention has been given to the design of the cutter head to guarantee process integrity and ensure the production of evenly shaped, high quality pellets.
"We are very excited to be debuting the new Sphero S underwater pelletizing system at CHINAPLAS 2014," comments Andreas Weidner, China Sales Director for Automatik Plastics Machinery. "I would say this is a machine that has very high cost-to-performance ratio."
He said the company is able to offer Germany or European engineered products but with attractive pricing due to the fact that these high quality equipment are assembled or fabricated in China.
2013 was a good year for the company, particularly for its Chinese business, according to Mr. Weidner. However he admitted things have started a bit slower this year.
"First of all I think the currency exchange rate is not favorable to Chinese manufacturers," he remarks. "Moreover, the tightened new environmental regulations in China are difficult for some to follow, so that some projects are put on hold or cancelled."
Nevertheless, Mr. Weidner expects the compounding industry in China is poised for a high growth rate in the next few years because of its booming automotive industry, which is looking to source from local compounders for cost effectiveness.
"We are well prepared to handle such growth," he adds.