Halguard® 58600 Series Products Are Designed for General-Purpose Jacketing of Cable Used in Telecom, Datacom, Electrical and Electronic Equipment, and a Wide Range of Infrastructure Applications
SINGAPORE, September 15, 2014: A new series in the Halguard® range of halogen-free, flame retardant (HFFR) compounds for general-purpose jacketing applications costs less than premium compounds with little compromise in performance properties, it was announced today by Teknor Apex Company, which will introduce the products at Wire China 2014 (Booth W1-C23).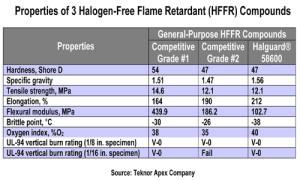 Halguard® 58600 Series HFFR compounds are available with Shore D hardness ranging from 47 to 53 and LOI of 40% to 45%. Like other general-purpose HFFR compounds, their ability to pass the most stringent flame tests such as UL 1685 FT4 or UL1666 depends upon the overall cable design, but they provide comparable or superior UL94 performance. They exhibit similar tensile properties and greater flexibility in comparison to competitive grades. (Property details appear in the accompanying table.)
Teknor Apex recommends Halguard 58600 Series compounds for cable used in subway, mass transit, cell tower, and other infrastructure applications as well as internal wiring in electrical and electronic equipment.
"Halguard 58600 Series compounds meet the property requirements of a wide range of general-purpose jacketing applications while costing significantly less than other Halguard compounds or competing HFFR products," said Mike Patel, director of marketing and business development for the Vinyl Division of Teknor Apex. "To keep our customers competitive, our technical team is constantly working to create the optimal cost-performance mix."
About Teknor Apex. Teknor Apex Company, a privately held firm founded in 1924, is one of the world's leading custom compounders of plastics. Teknor Apex produces flexible and rigid vinyl, thermoplastic elastomers, nylons, toll and specialty compounds, color masterbatches, specialty chemicals, bioplastics and hoses. The company is headquartered in Pawtucket, RI, U.S.A. and operates thirteen facilities worldwide in the United States, the Netherlands, the United Kingdom, China and Singapore.
Teknor Apex Asia Pacific Pte Ltd. is headquartered at 41 Shipyard Road, Singapore 628134. Tel: +65-6265-2544. Fax: +65-6265-1821. Email: [email protected] Teknor Apex Asia Pacific operates manufacturing and development centers in Singapore and Suzhou, China with commercial and technical offices throughout the Asia Pacific region.
More Information…
www.teknorapex.com