In Europe, the gap between spot ethylene and propylene prices started to widen again as of the beginning of September and the premium on propylene over ethylene reached €150/ton this week as per the pricing service of ChemOrbis.
At the end of April 2014, the gap between spot ethylene and propylene hit a record high, exceeding €280/ton as both monomers followed different paths starting from March. Spot propylene tracked a firming trend back then after a cracker shutdown intensified the tightness in availability whereas long supply exerted downward pressure on the ethylene market. However, the gap shrank to as low as €30/ton in June as spot propylene prices were gradually retreating due to muted demand in line with shutdowns at downstream units while spot ethylene prices started to track an upward path after an explosion at a cracker in the Netherlands.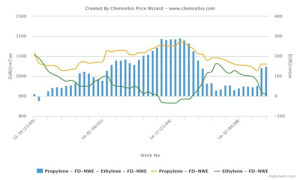 This week, spot propylene prices are holding steady on an FD NWE basis despite weaker spot naphtha costs. Spot naphtha prices declined by over $20/ton on an FD NWE basis, pulled down by weaker crude. Brent crude futures dropped by 3.7% since September 5, posting the largest weekly drop since the week ended January 3. The steady propylene prices were attributed to reduced cracker output, caused by long ethylene supply.
In the ethylene market, spot prices on an FD NWE basis decreased by around €30/ton on the week, remaining unaffected by the ongoing turnaround season for now given ample availability. As a result, the spot ethylene market reached the lowest levels seen since late May.
Several crackers in Europe are undergoing a turnaround as of the beginning of this month. BASF started to conduct a planned maintenance shutdown at their No 1 cracker in Ludwigshafen, Germany on September 11. The 220,000 tons/year cracker is expected to remain offline for 6 weeks until October.
According to ChemOrbis, ExxonMobil was also expected to conduct a six-week long maintenance at their 425,000 tons/year steam cracker in France in the September-October period. Shell is mulling over shutting their Wesseling cracker in Germany for a six-week turnaround in October. Market sources added that OMV's 450,000 tons/year Burghausen cracker in Germany would remain offline until early November due to maintenance.
Source:- www.chemorbis.com